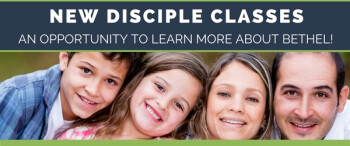 Are you interested in learning more about Bethel? Do you have questions regarding the church, mission, beliefs, programs, or something else? Maybe you've already been attending Bethel and are interested in becoming a new disciple?
Dates have been set for the next session (you are asked to make at least three):
Monday, October 23
Thursday, November 2
Monday, November 6
Tuesday, November 14
7:00-8:15pm | Highlands Campus
New disciples will be received Sunday, November 19 at the 9:30am worship service at Highlands Campus.
Free Childcare available upon request - please specify with ages/gender of your children that will attend at registration.