Bethel 2020 Q & A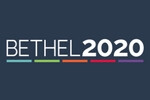 Have you had questions regarding Bethel 2020? We've heard you - here are responses to three questions we received about Bethel 2020:
What is the overall goal of this process?

The primary goal is to develop an action plan to guide the ways Bethel will Connect, Grow and Serve over the next three years. To accomplish this goal, forty Bethel members and staff, including the Long-Range Planning Committee, are studying the congregation's health and vitality, looking at best practices in core ministry areas, and generating a select number of actions to strengthen and sustain Bethel into the future. The forty participants are representatives of the broad diversity of members who call Bethel their church home.

What is the timeline for completion of this process?

On October 28 and December 2, the forty Bethel 2020 participants will gather in planning sessions called symposia. The participants are divided into five working groups, one each for the Five Practices of Fruitful Congregations (Radical Hospitality, Passionate Worship, Intentional Faith Development, Risk-taking Mission and Service, and Extravagant Generosity). Using the insights from the research on the Five Practices and from visits to area congregations, participants will generate the "best ideas" that will form the foundation of the Bethel 2020 plan. The final meeting of this Long-Range Planning Committee will be on January 8, 2018 with the goal of presenting the plan to the Church Council on January 15. The Council can then use the plan to help shape budgets and related decisions.

What about Bethel's future beyond 2020?

Growing congregations are always looking ahead to the short- and long-range futures. While this plan will focus on specific decisions and actions to guide Bethel until 2020, it will also consider topics that may require more than three years to implement. The time, effort and resources being devoted to Bethel 2020 by members and staff are intended to have long-lasting effects.
Bethel 2020 Long-Range Planning Committee