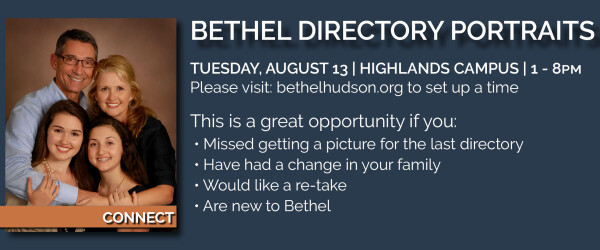 Tuesday, August 13,2019 a photographer from Lifetouch will be here to take photos for the Bethel Directory!
You may be saying, "But we just had our photos taken for the directory?" While that is true, the good people at Lifetouch have realized that taking photos of everyone in a constantly growing church is a huge undertaking that churches generally only do once every 5 or 10 years. So they've come up with a solution to stop by yearly and take photos and then provide updated directories. This is a great opportunity for anyone who:
• May have missed getting a picture for the last directory
• Has had a change in their family (i.e. a new addition)
• Would like a re-take
• Is a new member of Bethel
TUESDAY, AUGUST 13 | Highlands Campus | 1 - 8pm*
Click Here to Schedule your appointment
All individuals and families who did a portrait sitting last year and all those who do a portrait sitting August 13, will receive a church directory.
Thank you to Diane Wolf for coordinating volunteers for all of the picture times.