March 2022 Update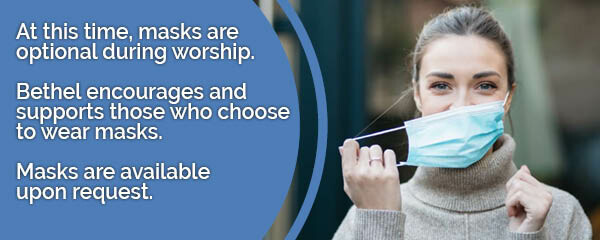 December 2021 Update
The latest news on an uptick of Covid19 cases in St. Croix County and around our nation, reminds us that we need to remain vigilant. For that reason, we ask that all who attend Bethel worship services (vaccinated or unvaccinated) wear a mask.
---

September 17, 2021
Friends of Bethel, Fall Greetings!
As you may be aware, we currently have a rise in breakthrough cases of the covid variant in our community (even among vaccinated people)
and our St. Croix County indicator is now in the "red", advising caution.
They have posted a mask advisory until October 5th.
(Please check out the county web site for specific details.)
So continuing our commitment to keep our congregation safe and healthy, we are asking everyone (vaccinated and unvaccinated, young and old) to wear a mask for worship and Sunday School for the next few Sundays. One of the key reasons for this is the potential of spreading the virus through singing (and a much greater potential of spreading through singing than speaking).
None of us relishes wearing masks at this point, and we all hope this will be only for a short stretch of time. But after consulting with our county health experts, we believe this is a small price to pay for keeping people of all ages safe and healthy. We trust you won't allow this small gesture to become a deterrent from coming out to worship with us.
Our Re-Entry Committee, appointed by Bethel's Church Council, will be meeting on a regular basis to stay on top of our local conditions and determine if our guidance should continue, be modified, or discontinued. We really appreciate your understanding and cooperation, friends.
We hope to see you Sunday at one of our three worship services…with a mask.
All God's Blessings!
Pastor John Lestock
and Bethel's Re-Entry Committee
---
June 17, 2021
Greetings to everyone from your Bethel Church Council and Re-entry Committee.
We hope everyone has stayed healthy and safe as we have come through an unprecedented year of a pandemic. As a council and committee, we continue to monitor the pandemic and guidelines that the Center for Disease Control and Prevention (CDC) provide as the virus is affected by vaccinations and recommended health and safety practices. Thankfully, we have been blessed by effective vaccinations and practices that are slowly bringing the virus infections down.
Being aware of the guidance and continuing to be cautious for all of us at Bethel and in the community, we have updated our plans as we prepare to fully open our facilities and activities.
We will follow the CDC recommendations that have been updated for fully vaccinated people.
People who have been vaccinated for COVID-19 do not need to wear face masks, inside or outside Bethel facilities, but certainly may choose to do so.
To help protect and provide for those who have not or are unable to get vaccinated (medical, personal, children under 12), we ask that those who are not vaccinated continue to follow the CDC safety and health guidance for masking and social distancing inside the Bethel facilities.
Masks will be optional for everyone when we are outside for activities.
We really look forward to seeing everyone at church. Our pastors will continue to provide church services that will fit all our needs with fully opening our church to welcome everyone. Come back and join us for a live service and join us for the outdoor services. In addition, you can always tune in to our live stream on Facebook or YouTube or listen to the 8:00AM service on WEVR radio.
As always, as the guidance from the CDC is updated, we will adjust our guidance for all of us.
Again, we are looking forward to seeing everyone back at church!
Respectfully Submitted, Bethel Council, Re-Entry Committee, and Pastors
---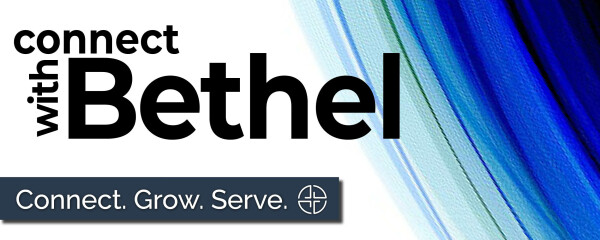 Way back when we met in person, Bethel's Pastors encouraged visitors to fill out "connect" forms that were available to all in attendance. Every visitor who took the time to fill out the form received a welcome note from Pastor John and fresh-baked cookies at their door courtesy of the Bethel welcoming committee. the tradition lives on -- please click here: to fill out an online version of the "Connect" form.
---

Bethel's Church Council has developed a Re-entering Our Facilities Plan, which is a staged approach to safely get us back together for in-person worship. Click here to read the full plan.
Key takeaways:
Bethel will live stream and broadcast services for the foreseeable future
In-person worship will begin at a to-be-determined date (we assume sometime this summer) with limited seating
We will move between the plan's stages based on guidance from a variety of sources and will make changes as needed
---

---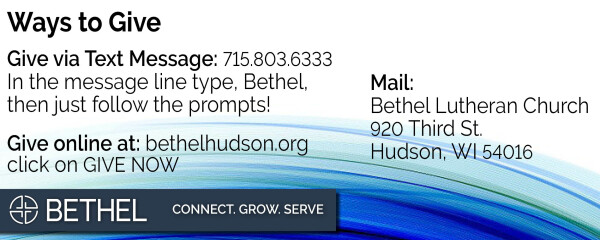 ---

Please join us in communion by sharing bread and wine or juice at home (the bread and wine/juice can be whatever you have on hand)
---
WEEKLY WORSHIP OPPORTUNITIES
Please note that in response to the rapidly changing situation with COVID19, worship at Bethel is, for the time being, exclusively online and on the radio:
Sunday 8am Services are broadcast on WEVR radio (WEVR 1550 AM and 106.3 FM) and livestreamed on Bethel's facebook page
Sunday 9:30am Services are livestreamed on Bethel's facebook page
HELPFUL LINKS
Pastor Ladd Tutorial: How to Use Zoom. Click here to learn how.
Pastor Ladd Tutorial: Creating a Facebook Watch Party. Click here to learn how.
Pastor Ladd Tutorial: Need help navigating how to watch Bethel's livestream on Facebook? Learn how, click here.
COMMUNICATION FROM BETHEL REGARDING THE CORONAVIRUS/COVID 19
Click Here to read Bethel's Revised Response to the Coronavirus | March 14
Click Here to read Bethel's Initial Response to the Coronavirus | March 13
COMMUNICATION FROM THE ELCA REGARDING THE CORONAVIRUS/COVID 19
Click Here to read the May 14, 2020 Pastoral Message regarding the WI Supreme Court Ruling Safer at Home Ruling from Six Bishops
Click Here to read ELCA Considerations for Returning to In-person Worship Being Church Together During the COVID-19 Pandemic Updated May 12, 2020
LINKS TO STATE AND FEDERAL GUIDELINES TO SLOW THE TRANSMISSION OF CORONAVIRUS/COVID19
United States Centers for Disease Control and Prevention