Way back when we met in person, Bethel's Pastors encouraged visitors to fill out "connect" forms that were available to all in attendance. Every visitor who took the time to fill out the form received a welcome note from Pastor John and fresh-baked cookies at their door courtesy of the Bethel welcoming committee. the tradition lives on -- please click here: to fill out an online version of the "Connect" form.
---

Bethel's Church Council has developed a Re-entering Our Facilities Plan, which is a staged approach to safely get us back together for in-person worship. Click here to read the full plan.
Key takeaways:
Bethel will live stream and broadcast services for the foreseeable future
In-person worship will begin at a to-be-determined date (we assume sometime this summer) with limited seating
We will move between the plan's stages based on guidance from a variety of sources and will make changes as needed
---

---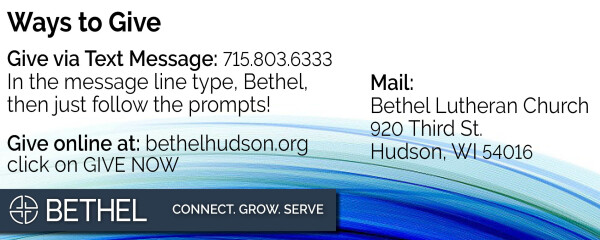 ---

Please join us in communion by sharing bread and wine or juice at home (the bread and wine/juice can be whatever you have on hand)
---
WEEKLY WORSHIP OPPORTUNITIES
Please note that in response to the rapidly changing situation with COVID19, worship at Bethel is, for the time being, exclusively online and on the radio:
Sunday 8am Services are broadcast on WEVR radio (WEVR 1550 AM and 106.3 FM) and livestreamed on Bethel's facebook page
Sunday 9:30am Services are livestreamed on Bethel's facebook page
HELPFUL LINKS
Pastor Ladd Tutorial: How to Use Zoom. Click here to learn how.
Pastor Ladd Tutorial: Creating a Facebook Watch Party. Click here to learn how.
Pastor Ladd Tutorial: Need help navigating how to watch Bethel's livestream on Facebook? Learn how, click here.
COMMUNICATION FROM BETHEL REGARDING THE CORONAVIRUS/COVID 19
Click Here to read Bethel's Revised Response to the Coronavirus | March 14
Click Here to read Bethel's Initial Response to the Coronavirus | March 13
COMMUNICATION FROM THE ELCA REGARDING THE CORONAVIRUS/COVID 19
Click Here to read the May 14, 2020 Pastoral Message regarding the WI Supreme Court Ruling Safer at Home Ruling from Six Bishops
Click Here to read ELCA Considerations for Returning to In-person Worship Being Church Together During the COVID-19 Pandemic Updated May 12, 2020
LINKS TO STATE AND FEDERAL GUIDELINES TO SLOW THE TRANSMISSION OF CORONAVIRUS/COVID19
United States Centers for Disease Control and Prevention