GOAL
We strive to build in each youth a strong biblical and Lutheran foundation as well as equip them to Connect, Grow, and Serve.
---

SUNDAY SCHOOL | 3 YEAR OLDS - GRADE 5
Sunday School at Bethel is an opportunity for students ages 3 through 5th grade to learn about Jesus' love while worshiping together (must be age 3 by 9/1/2021 and potty trained). Classes are held at Highlands Campus during the 9:30am worship service on Sunday mornings from September through May. Students begin in worship with their parents and are dismissed to Sunday School after the Children's Message.
Click HERE to register your student.
---
Sunday School Camp Day - January 9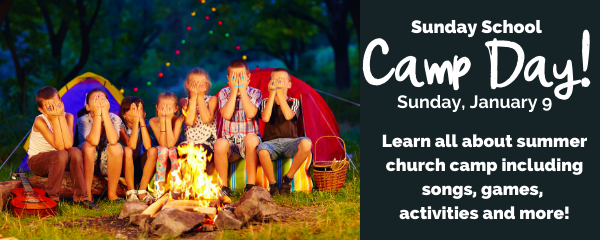 This special day of Sunday School features songs, games and activities about summer church camp. You kids will come home ready to sing up!
---
Help Needed: Preschool Sunday School Lead
---
Alternate / Remote Sunday School
Perhaps your family is not ready to return to in-person Sunday School. Or perhaps you are traveling for a weekend yet still want to experience Sunday School. Check here each week for an archived virtual Sunday School lesson!
This week we feature November 15, 2020, a lesson about baby Moses. Enjoy!
---
Soles4Souls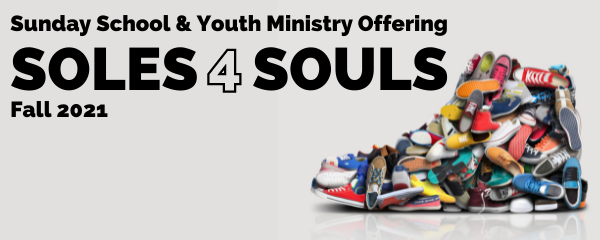 This fall the Sunday School and Youth Ministry offering will be directed to Soles 4 Souls, a national organization that collects new and gently used shoes to be shared with those in need in our community and around the world. Send your too-small, gently used shoes to class with your kids and make a difference in the world!
Our goal is 356 pairs - one pair for each person registered in Bethel's Youth Programming. Can you help us reach this goal?
Want to learn more about Soles4Souls? Click HERE for a short video link.
---
Donate new or used t-shirts for upcoming Sunday School projects! Bring them to collection bins in the lobby of both the Downtown and Highlands campuses.
New or used
Colored shirts are best
Adult sizes only
Screen printing is ok
No holes, please
Questions? Contact Carole De Jardin ( )
---
FAITH MILESTONES
In January the 1st Graders will experience their Lord's Prayer Faith Milestone. On Sunday, January 16 students and their parents will attend a class during Sunday School to learn all about the Lord's Prayer. The students will recite the Lord's Prayer in worship and receive a special blessing during worship on Sunday, January 23.
All 1st Graders are welcome to participate in this Faith Milestone. If your student has already registered for Sunday School, we are ready for them. If not and you would like your student to participate, click HERE to register for Sunday School and be informed of all of Bethel's Children's programming.
---
2020 CHRISTMAS PROGRAM VIA ZOOM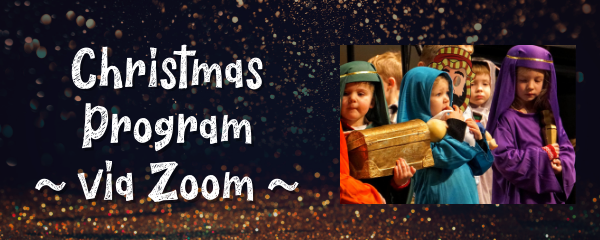 Click below to watch the 2020 Children's Christmas Program.
---
RESOURCES
Are you looking for ways to help your kids grow in faith during this time home together? Check out these great online resources:
---
2019 CHRISTMAS PROGRAMS
The students did a great job of sharing the Christmas story! Click the links below to view them!