GOAL
We strive to build in each youth a strong biblical and Lutheran foundation as well as equip them to Connect, Grow, and Serve.
---

SUNDAY SCHOOL | 3 YEAR OLDS - GRADE 5
Sunday School at Bethel is an opportunity for students ages 3 through 5th grade to learn about Jesus' love while worshiping together (must be age 3 by 9/1/2020 and potty trained).
Due to the pandemic, Sunday school will be held virtually until we can gather safely. Sunday School will occur directly following the Sunday, 9:30am worship, likely about 10:30am. When we can safely gather, the revised Sunday School plan will be announced.
In a typical year, classes are held at Highlands Campus during the 9:30am worship service on Sunday mornings from September through May. Students begin in worship with their parents and are dismissed to Sunday School after the Children's Message.
Click HERE to view the Welcome to Sunday School video!
---
Sunday School
Sunday, February 28 - Feeding the 5000
Did you miss Sunday School? No problem! Click below to watch the session you missed.
---
Faith development can happen easily beyond worship with "Taking Faith Home". These weekly publications include daily Bible readings, devotions, prayers, conversation starts and more. Click the links below for the most recent installment of "Taking Faith Home".
Also, check out the special Ash Wednesday edition!
---
FAITH MILESTONES
Upcoming:
March - 3rd Grade - First Communion
May - Kindergarten - Prayer
3rd Grade - First Communion
In March, 3rd graders will prepare for First Communion with two classes. Both classes will be in-person led by Pastor John and Carole De Jardin, Director of Children's Ministry.
Class 1: Tuesday, March 2nd, 6:30-8pm at Highlands: This class if for students only to learn what communion is meant to be for us.
Class 2: Tuesday, March 9th, 6:30-8pm at Highlands: students AND parents - Please make sure to have at least one parent present as we will share communion experiences.
This Milestone occurs as our Bethel community begins to open its doors for limited public events. As a precaution, all participants will be asked to wear face masks, sanitize hands and socially distance.
Parents – A limited number of parent volunteers are needed for Class 1 to lead small group discussions. If you are available, please contact Carole De Jardin ( ).
This Milestone is also a sacrament and especially important to learn and experience. These classes will only be offered in-person. If you or your family are not yet ready to engage in an in-person event, another session will be offered in the summer when we can meet outdoors.
First Communion will be celebrated during worship on Thursday, April 1st (Maundy Thursday) at 5pm or 7pm. Details will be shared when they are finalized closer to Maundy Thursday.
As with most events these days, all plans are subject to change based on the current Covid guidelines.
---
CHRISTMAS PROGRAM VIA ZOOM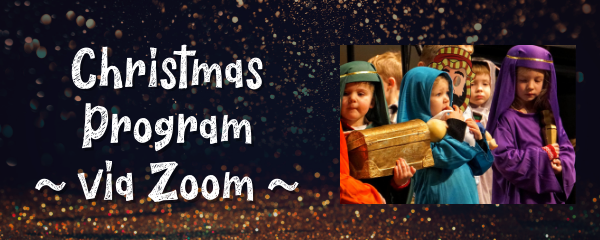 Click below to watch the 2020 Children's Christmas Program.
---
RESOURCES
Are you looking for ways to help your kids grow in faith during this time home together? Check out these great online resources:
---
2019 CHRISTMAS PROGRAMS
The students did a great job of sharing the Christmas story! Click the links below to view them!