Summer 2021 @ Bethel
Bethel's Youth Ministry is vibrant and active in the summer with events and activities for kids of all ages! Check this page frequently because new events will continue to be added.
---
Middle School Slip'n Slide Kickball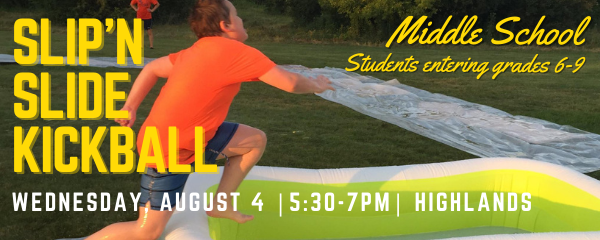 After being postponed a year, Bethel is back with Middle School Slip'n Slide Kickball!
Get ready for some outrageous fun! It's everything you love about slip'n slide and kickball all wrapped into one! Dress appropriately, because you will get wet!
Invite your friends!
There is no cost, but signup so we know about how many kids will play. Click HERE to register.
---
Summer Nursery
---

Bethel's Youth Team is pleased to introduce the 2021 Summer Youth Ministry Intern, Jacob Benoy! Jacob is no stranger to Bethel since he grew up through Bethel's Youth Ministry program. Jacob will be helping out with all aspects of Children, Youth, and Family Ministries, from VBS to College Zoom bible studies. Stay tuned for more information.
We are so excited to have Jacob as a part of our team and make sure you drop him a note (at the church) and welcome him!
A Note from Jacob:
My name is Jacob Benoy. I graduated from UW-Eau Claire this winter with a degree in English Education. Bethel is the church I grew up in, from Sunday school to senior league. It, along with my countless summers at Luther Point Bible Camp, have helped shape my faith to what it is today. I am excited and grateful for the opportunity to help do that with others this summer as an intern.
---
Summer Mission Trip - Tulsa, Oklahoma:
One Site, Two Separate Mission Trips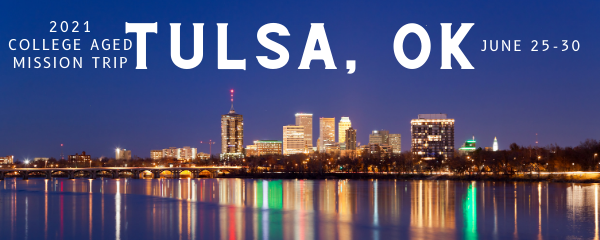 One site, two separate mission trips. This summer, both the high school and college-aged mission trips are going to Tulsa, Oklahoma. This city is rich in culture with a long history of racial diversity and struggle. Here, the groups will partner with a local church to reach across economic, social and racial divides to make a real difference in the community.
It won't be all work though - there will be plenty of opportunities for fun including a visit to a civil rights museum and some evening get-togethers.
This really will be two separate mission trips though - the high school and college-aged adults will be have separate work groups, devotions, meals, social activities and more. Jake Summerville will lead the High School group and Pastor Ladd will lead the College-Aged group. Students graduating from 12th grade this year can register for either trip.
Dates: June 25-30
Cost: $450 (includes housing, food, activities & transportation)
High School Participants: Students completed 8th -12th grades
College-Aged Participants: college-aged young adults
Registration Deadline: May 15
Fundraising - There will be some upcoming restaurant fundraisers for which each mission trip participant will receive a portion of the proceeds. Also, there will be an Easter caramel roll sale that will benefit everyone who volunteers to help. Do you have other fundraising ideas? Share them with Pastor Ladd & Jake Summerville and help make them happen!
What mission work will be done?
The specifics of the mission work in Tulsa vary but typically, the work is leading a Vacation Bible School or some physical labor. When more specifics are known, this FAQ will be updated.
What fun things will be done in Tulsa?
There are a variety of great museums and sporting events in Tulsa allowing the group to select the activities the group would like.
---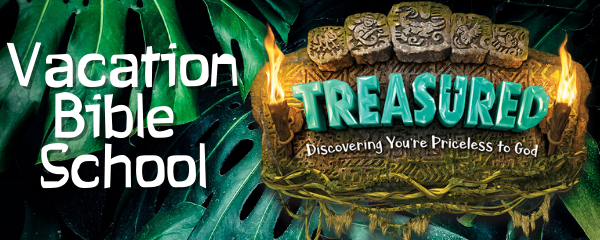 Vacation Bible School
TREASURED: Discovering You're Priceless to God
Registration opens Sunday, January 17
K-5th Grade
July 12-16, 9am - noon
$30/participant
Bethel Highlands - 504 Frontage Rd
Preschool
July 19-22, 9-11am
$25/participant
Bethel Highlands - 504 Frontage Rd
Embark on an epic quest through hidden ruins, ancient caves, and dense jungles. At Treasured VBS, kids dig into action-packed, faith-filled adventures. They'll discover God's greatest treasure isn't diamonds, gems, or gold–it's them!
Each day, one memorable Bible Point is reinforced throughout each station, making it easy to apply long after VBS is over. Each day includes lively activities, fun snacks, new songs and the love of Jesus to take with them in life.
Covid Precautions
Bethel hopes to offer both weeks of VBS in-person with precautions appropriate for the time. We anticipate those to include wearing masks, sanitizing hands, being outdoors and others as they are determined. If it is not yet appropriate to meet in-person, VBS will be offered virtually. Check back for Covid updates closer to summer.
Volunteers
In order to make this awesome week a success, we need over 100 volunteers - adults, high schoolers and middle schoolers. You can help as leading a small group, games, snacks, story-telling, science, movie, decorations, music and more.

It is a blast working together, growing closer to Christ and having fun with kids. Can you be part of our team? See the registration links above!


---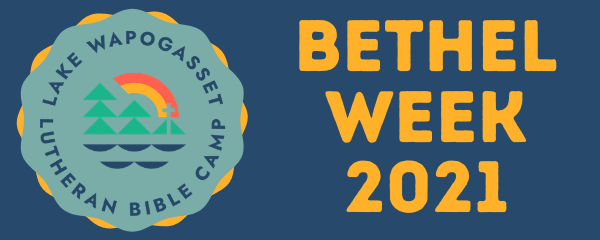 Make Bethel Week at Camp Wapo part of your summer plans!
Camp Wapo is a great place for kids to have fun, build friendships and grow closer to God! There are programs for all ages, however because of Covid, the One Day program has been cancelled for this year. We look forward to it returning in 2022.
Seeds Camp
July 21-23
Completed grades 1-3
Youth Camp
August 8-13
Completed grades 4-8
Senior High Camp
August 8-13
Completed grades 9-12
Covid Precautions
Camp Wapo has clearly documented their cancellation/refund policy and risk management & mitigation for the summer. Click HERE to learn about it.
Priority Registration
Bethel has priority registration from February 1-28 which reserves some spots for Bethel participants before registration opens to the general public. There will be fewer campers at camp this summer to help support Covid precautions so space is limited.
Click HERE to register!
---
TEC Retreat
August 12-15
Faith Church, Minnetonka, MN
After the pandemic hiatus, TEC Retreats are back! Details are developing as COVID guidelines change so check the United TEC website often for updates.
Click HERE for details & registration.
---
Hudson Backpack Program
Bethel supports the Hudson Backpack Program and encourages everyone to be involved whether you are receiving support to reduce food insecurity or you are a volunteer to support this valuable program. Click HERE to receive support or to volunteer.