Summer 2022 @ Bethel
Bethel's Youth Ministry is vibrant and active in the summer with events and activities for kids of all ages! Check this page frequently because new events will continue to be added.
---
Vacation Bible School
MONUMENTAL: Celebrating God's Greatness
K-5th Grade
July 18-22, 9am - noon
$30/participant
Bethel Highlands - 504 Frontage Rd
Participant Registration: Click HERE
Volunteer Registration: Click HERE
Preschool
July 25-28, 9-11am
$25/participant
Bethel Highlands - 504 Frontage Rd
Registration: Click HERE
Volunteer Registration: Click HERE
Go off-road for a Monumental adventure through the colorful canyons and sunbaked trails of the southwest. By exploring God's awesomeness, kids form a rock-solid faith for the road ahead.
Each day, one memorable Bible Point is reinforced throughout each station, making it easy to apply long after VBS is over. Each day includes lively activities, fun snacks, new songs and the love of Jesus to take with them in life.
Volunteers
In order to make this awesome week a success, we need over 100 volunteers - adults, high schoolers and middle schoolers. You can help as leading a small group, games, snacks, story-telling, science, movie, decorations, music and more.

It is a blast working together, growing closer to Christ and having fun with kids. Can you be part of our team? See the registration links above!
---
Make Bethel Week at Camp Wapo part of your summer plans!
Camp Wapo is a great place for kids to have fun, build friendships and grow closer to God! There are programs for all ages. Students can register for any week, but during Bethel Week transportation is provided to and from camp.
Click HERE to register!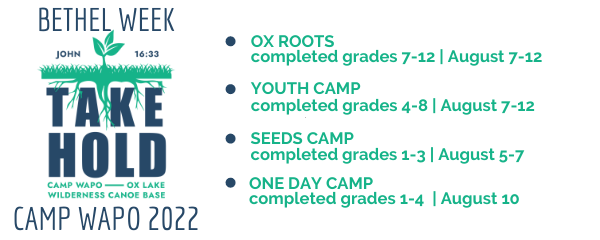 ---
Hudson Backpack Program
Bethel supports the Hudson Backpack Program and encourages everyone to be involved whether you are receiving support to reduce food insecurity or you are a volunteer to support this valuable program. Click HERE to receive support or to volunteer.