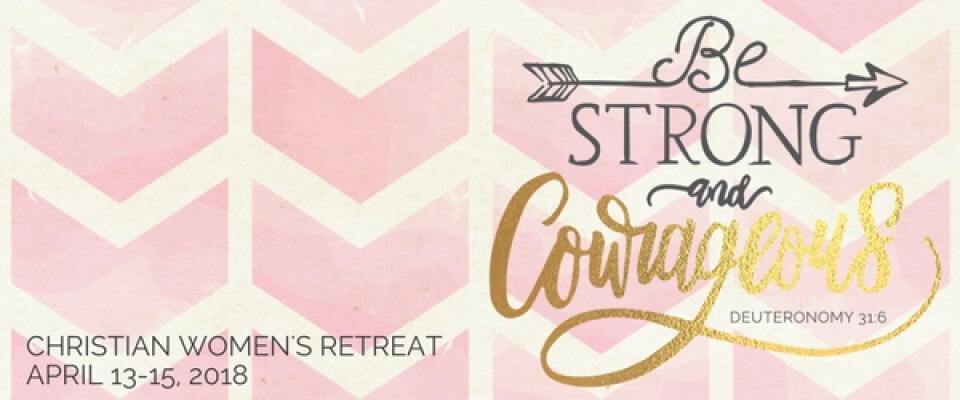 Friday, April 13, 2018, 4:00 PM - Sunday, April 15, 2018, 12:00 PM
The highly anticipated Women's Retreat is ready to accept your registration! This annual event sells out each year, so make sure that you and your favorite people are registered soon. Dates are Friday, April 13-Sunday, April 15. When you register, you will have the option to order a retreat t-shirt! This extraordinary experience has been described as life-changing and inspirational by past attendees—of all ages from 18-90. Make sure you take advantage of this opportunity this year! Here are some details:
BE STRONG AND COURAGEOUS: This year's theme along with new, inspiring speakers, music, activities and surprises as well as your favorites, are planned for your weekend and will help you identify your God-given strengths and how courage in Him helps you live out your goals. Deuteronomy 31:6 guides our time together along with the book and assessment, Strengthsfinder 2.0.
WHO THIS IS FOR: For any woman of any age, stage of faith or life. Women from all over the midwest with varying faith journeys and denominations attend this retreat, so be sure to invite your friend, sister, mother, daughter, neighbor!
WHAT TO EXPECT: Rest, relaxation, worship, strength, courage, growth, nature and fellowship!
WHAT IS PROVIDED: Double room for 2 nights, worship, 4 full meals and snacks, music, fellowship, social hour, outdoor time, professional speakers and musicians, Strengthsfinder 2.0 assessment and book, laughter and much more!
LOCATION: Heartwood Retreat Center, Trego, WI; you are responsible for your own transportation.
REGISTRATION: Registration is now full (to put your name on the waiting list, email Missy Austreng).
COST: $215 per person, $25 optional retreat t-shirt. Because of the generosity of the Bethel Endowment Fund and Women of Bethel grants, the cost of your retreat book is covered. Full and partial scholarships may be available as well. Please see Pastor Kris for details and to be considered.
BOOK: We will use the book, Strengthsfinder 2.0, and assessment results for this retreat. Once you have registered, you will receive an email with instructions on how to claim your copy and complete your assessment (cost is included in the retreat fee).
QUESTIONS: Journey Planning Team: Missy Austreng, Juli Hilding, Jenna Kron, Pastor Kris Kurzejeski, Janet Lestock, Erin Mason, Julie Neiderhauser