Click on the image above to contact Pastor Kris
---
WORSHIP TEAM VOLUNTEERS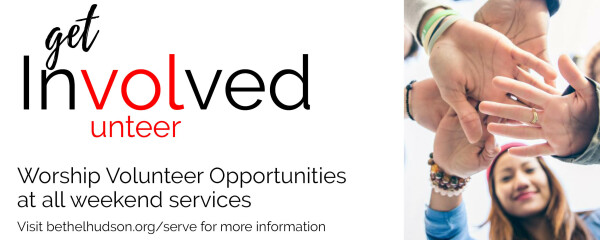 It takes many hands and hearts to provide a meaningful worship experience each week. Are you willing to volunteer once a month to greet, serve communion, usher, or advance the projection slides? No experience necessary for any of these tasks - just a joyful heart and welcome smile is all that is needed. Contact Kathy Jeska with your availability and desire.
8am & 11am Worship Team Schedules
5:30pm & 9:30am Worship Team Schedules
---
HELP NEEDED: CARPENTERS & SEAMSTRESSES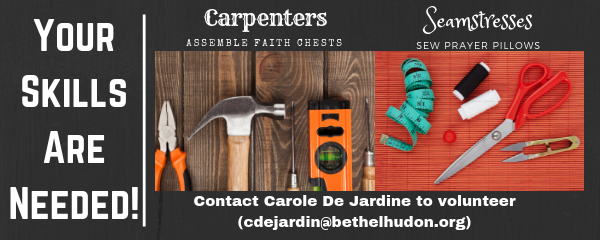 CARPENTERS
We are looking for individuals that enjoy cutting, sanding, building and finishing wood projects.
We are starting a new ministry for those who are baptized at Bethel. When a child is baptized they will receive a Faith Chest. The Faith Chest is designed to keep important things that help you grow on you faith journey. It might be a note from a Sunday School teacher or a certificate, or a program from a special worship service.
SEAMSTRESSES
We are looking for individuals to help with some sewing projects.
We are starting a new Faith Milestone for the Kindergartners - Prayer Pillows. Each of our Kindergarten students will learn about prayer and be blessed with a Prayer Pillow containing some prayer cards to get them started with their own prayers.
Thanks for offering to be a part of these important ministries!
---
HELPING HANDS MINISTRY
Bethel has several volunteers ready and willing to help as part of our Helping Hands Ministry group. Volunteers are ready to run errands, give rides, perform small home repairs or projects, do auto diagnostic or simple repairs, yard work, computer assistance, provide a meal, move furniture, among other things. If you or a loved one could benefit from a little extra help, please don't hesitate to ask Pastor Kris about this ministry.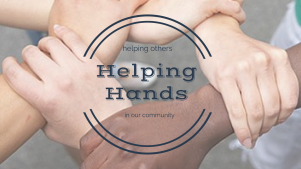 ---
FUNERAL RECEPTION VOLUNTEERS NEEDED
We are expanding our team of volunteers to serve at Bethel funeral receptions
Are you looking for a new way to get connected at Bethel? We are expanding our team of volunteers to serve at Bethel funeral receptions. Would you be willing to add your name to our contact list? Both men and women are welcome! Please call or email Juli Hilding for more information, at 715.386.8821 or . Many thanks!