ADULT EDUCATION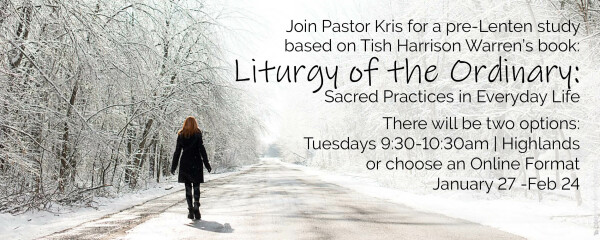 Join Pastor Kris for a pre-Lenten book study. We will use the book Liturgy of the Ordinary: Sacred Practices in Everyday Life, by Tish Harrison Warren. This book is about finding God's presence in our ordinary, daily lives. How do we embrace the sacred in the ordinary and the ordinary in the sacred?
Framed around one ordinary day, this book explores daily life through the lens of liturgy, small practices, and habits that form us.
There will be two options:
Option 1: Tuesday mornings - January 28-February 25 | 9:30-10:30 | Highlands
Option 2: Online Format. This can be done from home, engaging with online questions every week as your schedule permits, and no need to worry about winter weather.
Dates: 5 weeks (2-3 short chapters per week)
Starting: January 27 - the week of Feb 24
Directions for access provided at a later date.
---
Click here for additional information and to register for Pastor Bob's class to color Ukranian Easter Eggs, Friday evening class option
Click here for additional information and to register for Pastor Bob's class to color Ukranian Easter Eggs, Saturday morning class option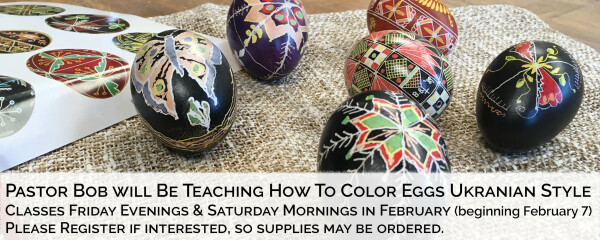 ---
Financial Peace University: Beginning Tuesday, February 11,
Financial Peace University will help you take control of your money, plan for your future, and transform your life. It's a great opportunity for a fresh start with a new plan for seeing money and possessions God's way. During this nine-week class, you'll learn a biblical perspective on finances and discover powerful tools for a life of financial freedom!
Tuesdays | 6 -7pm | February 11 - April 14*, 2020 | Coordinators: Ben and Nicole Lato
Cost: $99
If the cost for this class is prohibitive and you would like to discuss financial aid to attend, please contact Pastor Kris Kurzejeski at:
Please note that a minimum of 4 participants registered are required to make this class a go!
Click here to register for childcare during the class
*Class will not meet on April 7 (during Holy Week)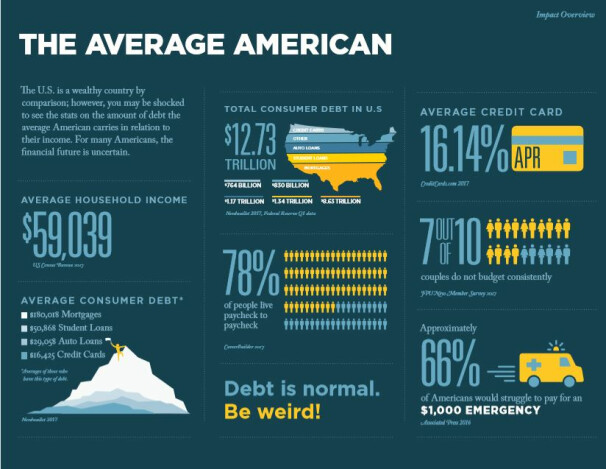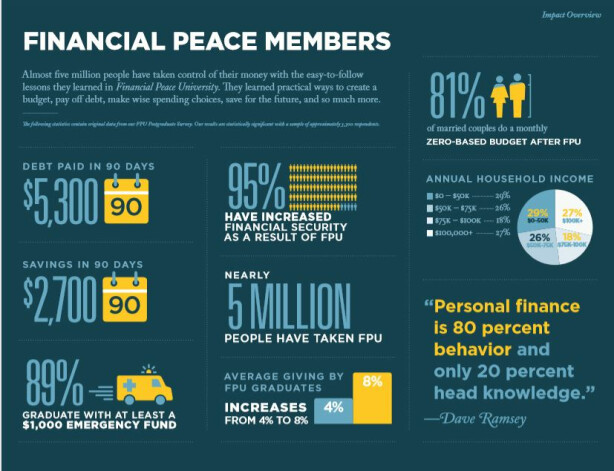 ---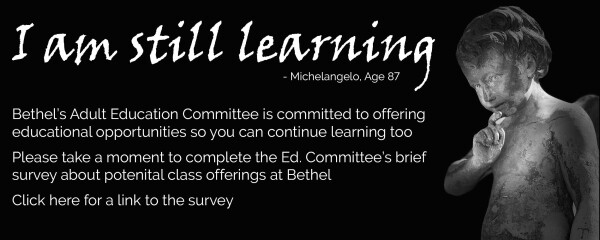 Bethel provides many opportunities to learn about current topics and issues that are present in our communities and daily lives. Check back often for information about upcoming classes.
---
OPIODS - THE GOOD, THE BAD & THE CRISIS
On Tuesday, June 18, 2019 Dr. Heather Blue gave a presentation describing what opioids are and how they can be appropriately used for pain treatment. She also discussed the dangers of opioid overdose and factors that increase overdose risk. Additionally, her presentation provided current statistics on opioid overdose deaths and ways these deaths may be prevented.
Click here to view the presentation on you tube
Click here to view the presentation via The River Channel's Facebook Page
Bio: Dr. Heather Blue is a Assistant Professor at the University of Minnesota College of Pharmacy- Duluth campus. She completed her PharmD at the University of Minnesota and completed a residency at Allina Health Mercy and Unity hospitals. After residency, she worked as clinical pharmacist at Mercy Hospital, Coon Rapids, MN. Since joining as faculty in 2016, Dr. Blue has received several awards for her teaching and clinical practice including Teacher of the Year and Minnesota Society of Health Systems Pharmacy Outstanding Pharmacist of the Year, and in 2018 was inducted into the University of Minnesota Academic Health Center Academic of Excellence in Healthcare Practice. Her current research is based on her clinical practice in the emergency department at St. Luke's Hospital Duluth, with an emphasis in opioid overdose reduction strategies.
---
VIA DE CRISTO
This Lutheran movement called Via de Cristo is a Spanish phrase meaning "Way of Christ." Via de Cristo is a highly structured three-day weekend designed to strengthen and renew the faith of Christian people and bring them to a new awareness of living in God's grace. It is a combined effort of lay people and clergy toward renewal of the church.
A weekend is three days long, beginning on Thursday evening and ending on Sunday afternoon. The participants live, study, worship and commune together daily. Through 14 progressive talks, Via de Cristo gives attendees a living understanding of basic Christian truths. There is music and singing, food and fellowship, a time for laughter and a time for prayer.
Find out more about this experience and schedule of dates at the Lutheran Via De Cristo of Minnesota website HERE.
---
MENTAL HEALTH IN THE ST. CROIX VALLEY
Bethel's past series: Mental Health in the St. Croix Valley helped to reduce stigma of Mental Health. You can watch the series below:
Part 1 with Dr. Chris Babbitt and Personal Story from Anna Johnson
Part 2 with Rev. Dr. Gary Wilkerson and Personal Story from Kaitlin Dulyn
Part 3 with Panel Discussion: Dr. Chris Babbitt, Sarah Jamieson, Angela Goebel, James Wildman