Bethel's annual drive for new/unused school supplies for our friends at the Wolf Creek Elementary School on the Pine Ridge Reservation in South Dakota has begun!
Basic new/unused supplies needed include: Paper, Notebooks, Pencils, Crayons, Highlighters, Colored Pencils, Markers, Scissors, Glue Sticks, Post-it Notes, and Backpacks
Please bring new/unused supplies to the bin near the office of the downtown campus*.
Monetary donations are welcome as well! Those donations may be mailed to Bethel, or dropped off at the downtown office (please write Pine Ridge School Supplies on the memo line of your check) or for convenience in this time of Covid19 online donations are also accepted Click here to donate online (click on the arrow by Designation to choose Pine Ridge School Supplies from the drop-down menu)
*PLEASE NOTE THE DOWNTOWN OFFICE IS OPEN MONDAY-FRIDAY 9AM-2PM. The FRONT door will be open during those times.
---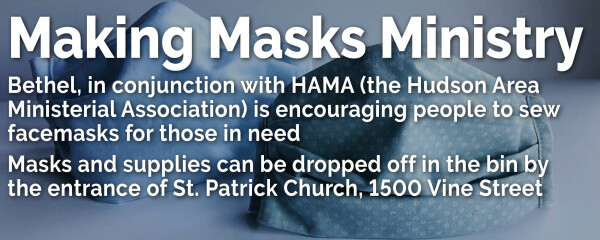 Making Masks Ministry
Bethel, in conjunction with HAMA (the Hudson Area Ministerial Association) is encouraging people to sew facemasks for those in need.
Masks and supplies can be dropped off in the bin by the entrance of St. Patrick Church, 1500 Vine Street.
Click here for a pattern for facemasks
Questions? Click here to email HAMA's Making Masks Ministry, coordinator Nini Milbrath
---
AMERICAN RED CROSS BLOOD DRIVE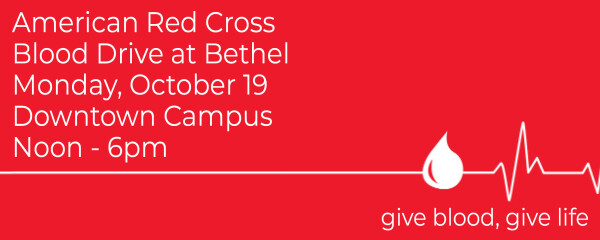 Click here to find a blood drive
---

The St. Croix County Home-Delivered Meal Program (under the umbrella of the Aging & Disability Resource Center [ADRC] of St. Croix County) is in need of volunteers in Hudson.
Meals are packaged at the Hudson Senior Center and delivered between 11 a.m. – 12 p.m. Mondays through Thursdays. We are in need of regular drivers and individuals who can substitute once a month. You can feel good about giving back to your community and providing a fantastic service! If you are interested in being part of this great program contact the Outreach Coordinator at 715-381-4364.
---

HELPING HANDS MINISTRY
Helping Hands is a group of volunteers from Bethel that will try to fill occasional requests our members might need help with, such as giving a ride, moving a piece of furniture, fixing something, or so forth. If you would like to volunteer to be a part of this ministry (or if you have a request for help), please let Pastor Kris or Kim Evers know and they will add you to the list to serve!
---
PLEASE NOTE THAT DURING THIS TIME OF COVID 19, MANY OF THE PLACES BETHEL REGULARLY REACHES OUT TO HELP HAVE TEMPORARILY SUSPENDED NORMAL VOLUNTEER ACTIVITIES
---
HOME MEAL
During Covid19, The H.O.M.E.(Hudson Outreach Meal for Everyone) meal is a free meal voucher program (on the first and third Thursday of the month).
---
GRACE PLACE
Grace Place offers shelter to families and single individuals in the St. Croix River Valley, including residents of St. Croix, Pierce and Polk Counties.
Volunteers from Bethel purchase, prepare and serve dinner on the second Tuesday of each month at Grace Place.
If you are interested in serving in this capacity, contact Kathy Jeska.
---
DOROTHY DAY SERVING

A team from Bethel will serve at Dorothy Day Center downtown St. Paul on the first Sunday of the month (1-5:30pm). Would you like to participate in this ministry? Chuck Lewis and Kathy Jeska are leading this mission.
CLICK HERE to be scheduled to serve the meal
CLICK HERE to help provide the food
---
FOOD DRIVE FOR THOSE AFFECTED BY VIOLENCE IN ST. PAUL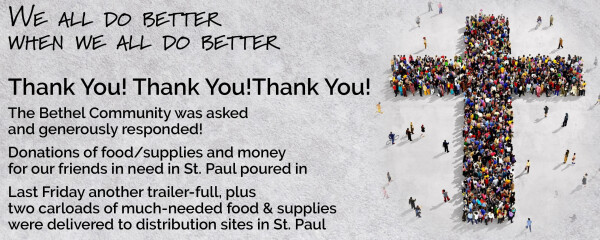 Last week Bethel hosted a food/supply drive for our neighbors in need in St. Paul. AND WOW -- you responded quickly and generously! Donations filled the lobby area downtown and nearly $4000 was raised for additional supplies. Jake and Pastor Ladd delivered pallets of food and supplies last Friday and Saturday.
Jacob (Jake) Summerville, who leads High School Ministry here at Bethel, lives near the Midway and has been volunteering as his neighbors get back on their feet and the neighborhood begins to rebuild.
Click here to get an overview what's happening at Bethlehem Lutheran Church in the Midway (where many of the supplies collected at Bethel went)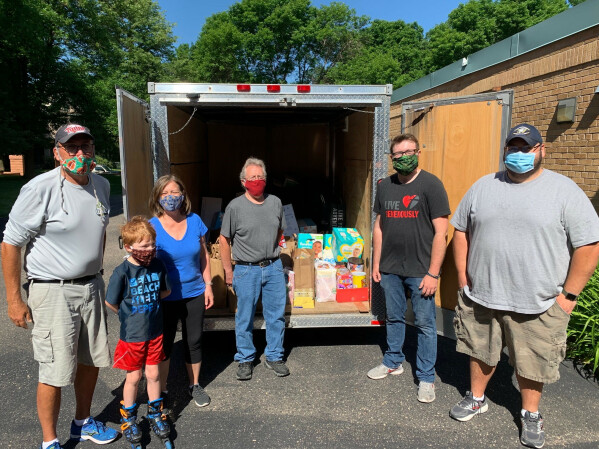 The image above is of the crew loading the trailer full of supplies.
---
CHRISTMAS 2019 - SERVE LOCAL - OPERATION HELP DRIVES
Operation HELP provides residents of St. Croix County with financial assistance, a place for personal support, and connections to community resources to alleviate short-term economic crises.
This year Bethel helped 35 kids all registered with the Hudson school district. Coordinator Missy Harstad reported that 550 tags (that inclided needs and wants) were taken from the Christmas tree in the Bethel Highlands lobby. A total of $3,520 in gift cards was collected. Each of the 35 children registered received a pair of shoes, socks, 2 pairs of pants, 2 shirts, underwear and then their wants. Bethel also received 64 rolls of wrapping paper to divide amongst the families and gift bags, tape, and bows.
In addition several of the women's groups at Bethel, also participated by sponsoring families for Operation Help.
As part of the "essentials campaign", coordinated by Bettie Peterson, over 100 sets of shampoo and conditioner were collected.
In the words of our hard-working organizer, Missy, "It was a huge success. Thanks to all who participated."