��
HOME MEAL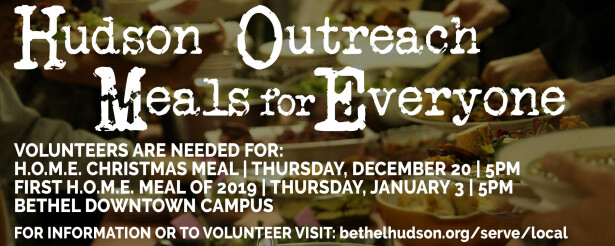 Click here to volunteer for the January 3, 2019 H.O.M.E meal
HOME (Hudson Outreach Meal for Everyone) meal is a free meal served twice per month by Hudson area churches on a rotating basis. Watch for opportunities to serve at the next night Bethel hosts.
---

Click here to contact Juli Hilding
---
DOROTHY DAY SERVING
A team from Bethel will serve at Dorothy Day Center downtown St. Paul on the first Sunday of the month (1-5:30pm). Would you like to participate in this ministry? Chuck Lewis and Kathy Jeska are leading this mission.
CLICK HERE to be scheduled to serve the meal
CLICK HERE to help provide the food
---
GRACE PLACE
Grace Place offers shelter to families and single individuals in the St. Croix River Valley, including residents of St. Croix, Pierce and Polk Counties.
Volunteers from Bethel purchase, prepare and serve dinner on the second Tuesday of each month at Grace Place.
If you are interested in serving in this capacity, contact Kathy Jeska.