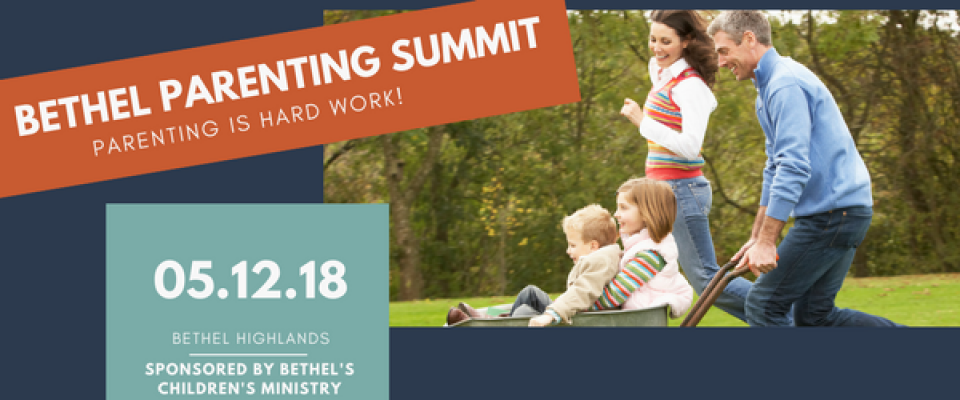 Saturday, May 12, 2018, 9:00 AM - 3:00 PM
Parenting is hard work!
Join us for a day of fellowship and learning as you participate in workshops and hear keynote speakers share their best parenting strategies. Workshops and speakers focus on parenting children 1st grade and younger.
* It's Mother's Day weekend so there will be a little something special for all the moms! *
Lunch is included. Childcare is provided.
Financial assistance available! Click HERE to complete the form.
Workshops Offered
Calming Intense Behaviors
Conscious Discipline / Brain Based Learning
Play is How Children Learn
Raising Kids of Character
Parenting is Messy! (for parents & kids)
Presenters
Mary Kaye Ashley
Mary Kaye Ashley is delighted to be anywhere we are exploring how to love, and how loved we are by God, so she's thrilled for events like Bethel's Parenting Summit! She is committed to being bi-vocational, leading a small ELCA congregation, First Evangelical Lutheran of Taylors Falls, MN, and teaching in the Early Childhood/Family Education program in ISD #191, (Burnsville/Eagan/Savage) as a parent/family educator. She is the mama of 3 grown young men, and the wife of Jim, and grandma to Declan, Shiyann & a new little loved one due in October. She's a champion of naming & sharing our abundances, remembering who to thank for them, and thoughtfully tending to her privilege.
Cheri Ethen
Cheri is a licensed Parent Educator with 8 years of experience. She has worked with families in crisis for over 25 years and has a Bachelors degree in Family Science, however her greatest source of pride is in her family. She is the mom to 6 wonderful kids, 5 handsome boys and one beautiful daughter who is my youngest. Their ages range from 9-25. Three are grown and living on their own and three are still at home. Cheri is trained in the principles of Conscious Discipline and feels strongly that Conscious Discipline is a powerful tool to help parents and kids with emotional regulation.
Kari Jo Fore
Kari Jo Fore has her Bachelor's Degree in Psychology with an emphasis on Child Development from UW-Madison. In 2012 she completed her Wisconsin Administrator's Credential.
Kari Jo has been the Director at Bethel Highlands Preschool since the preschool opened in 2007. Prior to serving at Bethel, Kari Jo worked as the Children's Ministry Director at St. Stephen in Bloomington, MN. Currently she sits on the executive board of United Way's Success by 6 and on the editorial team for Family First newspaper. She is a quarterly contributor of articles to Family First newspaper, writing on topics of child development and parenting. Kari Jo also serves as a grant reviewer for the Office of Head Start, and as a consulting editor for NAEYC. She is passionate about early childhood education and parent support, staying focused on big-picture goals in the midst of the daily demands.
Kari Jo has two teenage boys who she has raised as a single mother from the time they were very young. This past summer marriage made her a step-mom to three more big kids in an awesome blended family. Having struggled as a single parent, with each of her boys having very unique needs, Kari Jo is sensitive to the stories that come with each family.
Samantha Moe
Samanatha Moe, M.A. SLP, is a certified parent coach whose passion is teaching practical ways to decrease stress. Founder of the holistic and innovative Mad2Gald Blueprint, she guides caregivers in her step-by-step approach to dramatically reduce defiance and disrespect and re-establish confidence and authority.