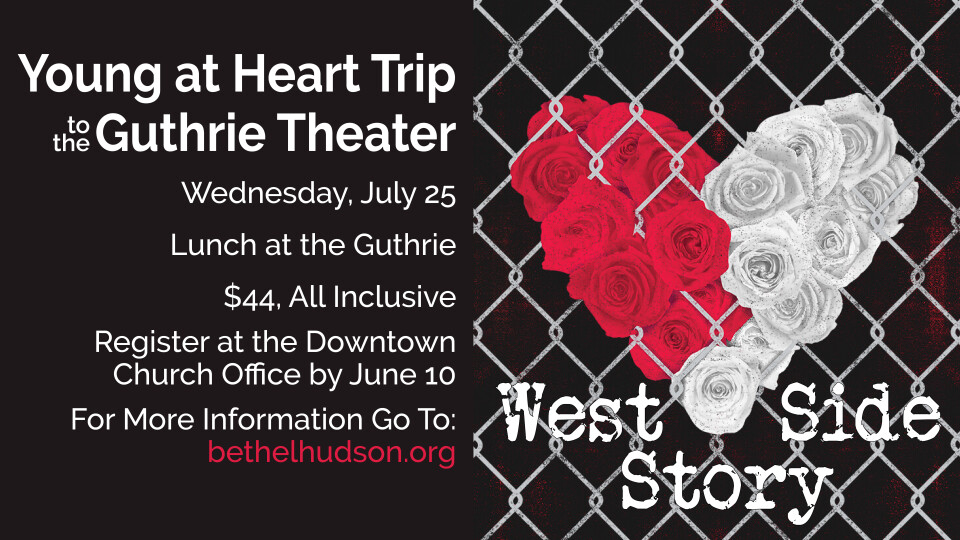 Wednesday, July 25, 2018, 10:30 AM - 3:00 PM
Young at Heart Trip to the Guthrie Theater
The Young at Heart will have an opportunity to see the musical, West Side Story, at the Guthrie Theater on July 25th. Lunch is at the Guthrie Level 5 Cafe prior to the show. There will be two entree selections, which must be selected at the time of sign-up. The bus will leave Downtown at 10:30 and the cost for the entire trip is $44. Sign up at the Downtown Welcome Center and church office by June 10th. Payment must be made by that date and there will be no refunds after that unless there are people on the waiting list to take your place.
SOLD OUT! Watch for more Young at Heart Trips coming up!
Note to those of you signed up to attend West Side Story at the Guthrie on July 25 should arrive at the Downtown Church around 10:15 as the bus will leave promptly at 10:30. The show starts at 1:00 and runs 2 hours and 45 minutes, so we can expect to arrive back in Hudson by 5:30. The reviews have been wonderful so it should be a great outing.