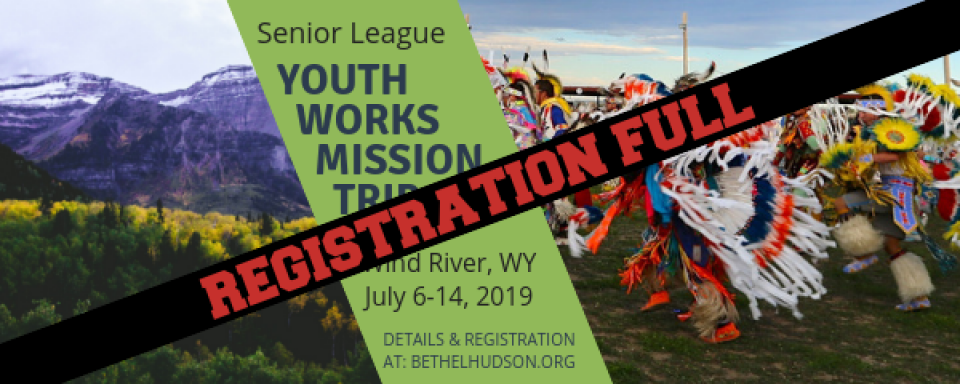 Saturday, July 06, 2019 - Sunday, July 14, 2019
REGISTRATION IS FULL - We anticipate a similar mission trip in 2020, so watch in the coming months for next year's opportunity.
This summer, Bethel senior high youth are invited to a YouthWorks Mission trip to Wind River, Wyoming! There youth will partner with Eastern Shoshone and Northern Arapaho tribes through kids programming and home repair. After the mission work on Friday, the adventure will continue with an overnight at Yellowstone National Park.
Dates: July 6-14
Cost: $450 before 12/31/2018
$480 after 12/31/2018
(includes housing, food, activities & transportation)
Who: students completed grades 8-12
Registration Deadline: May 1
A Youth Ministry Waiver is needed for all student participants. If your student completed the form earlier in the school year and nothing has changed, nothing more is needed. If changes have occurred, please click HERE to complete the form again.
Fundraisers
There are plenty of fundraising opportunities to offset the cost of the trip. Upcoming fundraisers include:
Panera Bread (March 26) - restaurant fundraiser - students volunteer for marketing
Smashburger (April 30)- restaurant fundraiser - students volunteer for marketing
Easter Caramel Roll Sales (April 20 & 21) - volunteer to make, bake and sell the caramel rolls
Sunday Snow Removal - on upcoming Sunday mornings students are invited to shovel the walkways at Downtown & Highlands and help the elderly to and from their cars. Students will earn $30 per snow morning. To be included in this opportunity, please contact Jacob Summerville to be on the volunteer list ( ).
Scholarships are available - click HERE to complete the application form.