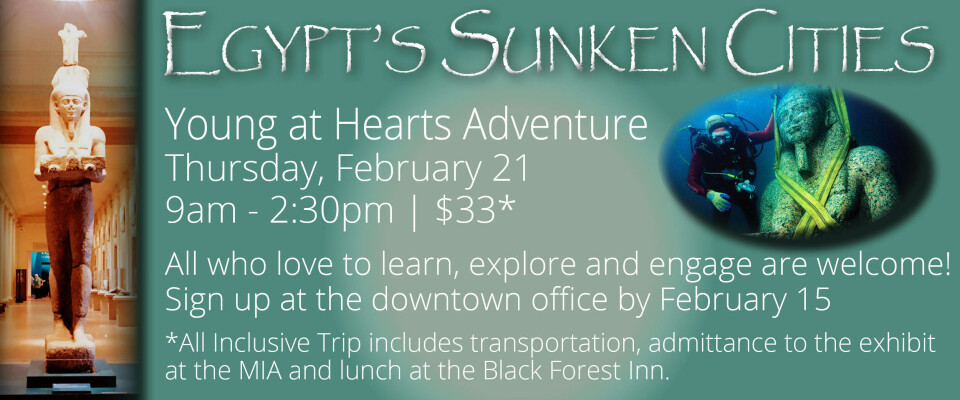 Thursday, February 21, 2019, 9:00 AM - 2:30 PM
Egypt's Sunken Cities Tour
On Thursday, February 21, the Young at Hearts will have an opportunity to see the Minneapolis Institute of Arts outstanding exhibit "Egypt's Sunken Cities". More than 1,200 years ago, two ancient cities were lost to natural disasters and the rising tides of the Mediterranean Sea. All remains of these cities were buried under 10 feet of silt and sand. In 2000, a team of underwater archeologists discovered those cities with their monumental statues, religious images and more. The exhibit displays the remains and tells about the amazing discovery and excavation. We will meet Downtown at 9:00 and will return before 2:30. Following the exhibition, we will enjoy a lunch of either German or American food at the Black Forest Inn. The all inclusive cost of this trip is $33. Sign up and pay at the Downtown office by February 15th.
Another outing being planned is a trip to the new University of Minnesota Bell Museum and Planetarium, which opened in the summer of 2018. The planetarium show employs space age tools for sending visitors anywhere in the universe. The backbone of the museum is the world famous nature dioramas. Watch for more details on this trip.
Who is eligible to go on Young at Heart trips? Any Bethel member who likes to go new places, see new things and learn something new. It is not a club, any member can go on the outings, just sign up for the ones that interest you. It's a fun way to experience new adventures with fellow Bethel members.