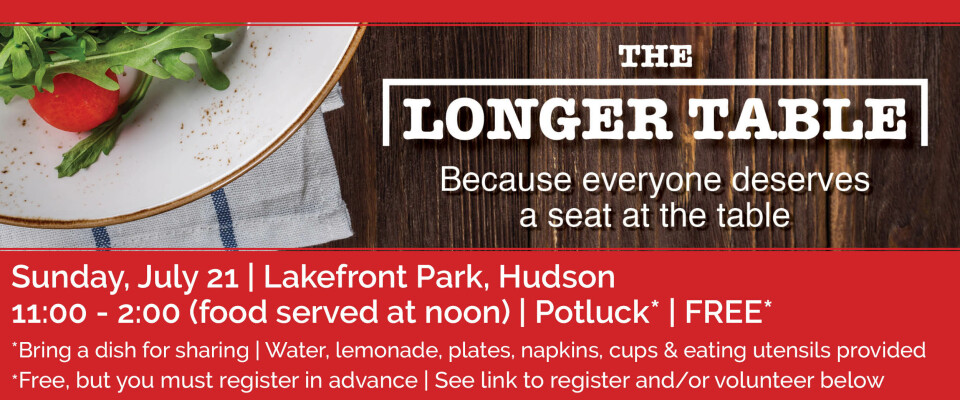 Sunday, July 21, 2019, 11:00 AM - 2:00 PM
Register now for The Longer Table
Planners are hard at work to make The Longer Table 2019 as successful as last years event! While retaining many of the unique elements of last years gathering, there will be some new features this year, including:
Folk music provided by Thomas Kivi & Carrelee
Activities for all ages - games, art & yoga
Aerial group photo at 12:30
The event will be held Sunday, July 21 at Lakefront Park 11 AM - 2 PM (Potluck lunch at 12 noon) and is free to the public. Register now so that you have your seat at The Longer Table: Click Here to Register
Sign up to volunteer for The Longer Table
To make this years event run smoothly, we need many hands on deck. Nothing too difficult or challenging. Sign up here to help lend a hand
Thank you to those who donated!
It's looking like we are going to hit our funding goal as we have several groups and institutions who have pledged to help us. Thank you to all who donated! If you planned to give but haven't done so yet, know that any amounts raised beyond our planned budget will be used to promote inclusion in the St. Croix Valley. Click Here to Donate
Looking ahead...
The Hudson Inclusion Alliance is partnering with the YMCA to bring educational programs to Hudson this fall. Look for dates and information on two programs to build equity and inclusion in our community. The two topics chosen thus far are: Unconscious Bias and Building Bridges.