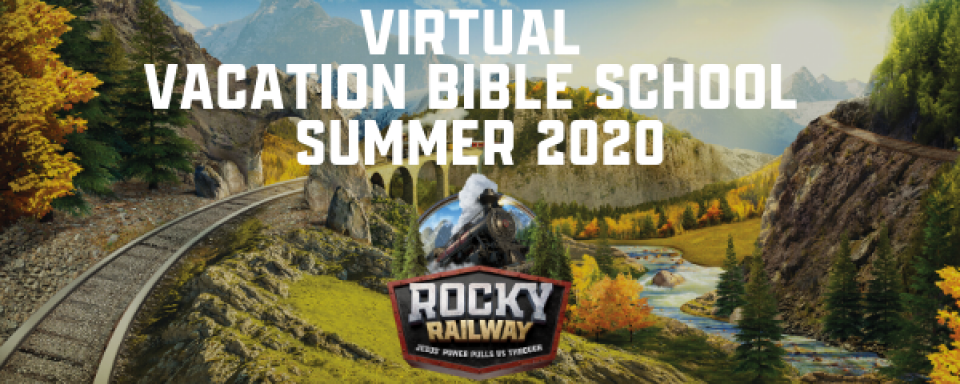 Daily, from 07/13/2020 to 07/17/2020, 9:00 AM - 10:30 PM
This year maybe more than ever, kids need Vacation Bible School . . .
Rocky Railway - Jesus' power pulls us through!
Climb aboard for mountains of fun at Rocky Railway! On this faith-filled adventure, kids discover that trusting Jesus pulls them through life's ups and downs.
Each day, one memorable Bible Point is reinforced throughout each station, making it easy to apply long after VBS is over. Each day includes lively activities, fun snack ideas, new songs and the love of Jesus to take with them in life.
This year Bethel is offering Virtual Vacation Bible School!
To keep the participants, volunteers and staff safe, Bethel is offering VBS virtually this summer. Instead of gathering with 300+ people, you can gather with your family, friends, neighbors or whatever sized group is appropriate at that time to participate in VBS live or watch the recording at your convenience. You can watch to the skits, sing & dance to the music, meet the Bible Buddies, learn about the sciencey gizmos and more! The virtual VBS link will only be available to those who register, so be sure to register now.
Students: All Ages! (Primarily designed for preschool - 5th grade) Location: Virtual - wherever you choose to participate!
Time: Live from 9-10:30 am or whenever you choose to watch. If those dates don't work for you, the links will be available after VBS week as well.
Price per student: $30 – includes the virtual access link and Stay on Track Student Pack (see below)
Registration – Click HERE to register now
Registration Deadline – June 26 so we can have all the VBS goodies ordered & delivered in time
Stay on Track Student Pack
The week BEFORE VBS, participants will pick up a Stay on Track Student Pack from Bethel Highlands with all the VBS goodies they need to participate including a t-shirt. The church will be decorated for Virtual VBS and you are invited to take photos with the props!
Small Group Leaders – One of the best parts of VBS are the small group leaders! This year, that too will look a little different, but you can still include them with some of these options:
Older siblings could help younger siblings
Grandparents could participate and lead their grandkids – what a great bonding opportunity
Teenage neighbors could lead your kids while you work, run errands or just enjoy a cup of coffee
Parents could participate with their kids and make it a family event!
Existing Registrations – If you have already registered for VBS, no action is necessary – your registration will be applied to Virtual VBS!
Preschool VBS - There will not be a separate Preschool VBS week this year. Instead, all ages will participate in Virtual VBS.
We hope you will be part of VBS with us!