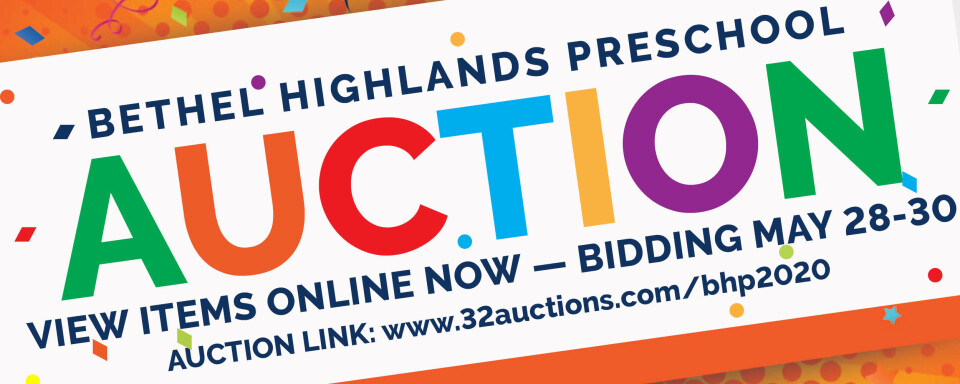 Thursday, May 28, 2020, 10:00 AM - Saturday, May 30, 2020, 1:30 PM
Click here to preview auction items.
Bidding will be open May 28 - May 30
About Our Auction
Bethel Highlands Preschool is a ministry of Bethel Lutheran Church. We are a non-profit, tuition-based preschool operating since 2007. Over the course of 13 years we've seen exponential growth in our enrollment, due to our high-quality, nationally-accredited programming and staff. Tuition and fundraising are our primary sources of income, and the auction and carnival is our largest fundraiser of the year.
---
About Bethel Highlands Preschool Silent Auction
Despite our Carnival being cancelled due to covid-19, we are confident our online auction will be a success. We are grateful to over 100 donors for auction items and financial support. Our fundraising goal is $10,000 from the online auction. Those funds help us provide quality materials for our classrooms, playground, and specials such as music and art. We transfer 10% of all fundraising income into a scholarship fund to help families pay tuition through temporary financial crisis. We know that our entire community benefits when children have access to a quality preschool!
*please note that there are no guarantees with business re-openings on offered merchandise in this auction due to Covid-19 closures.