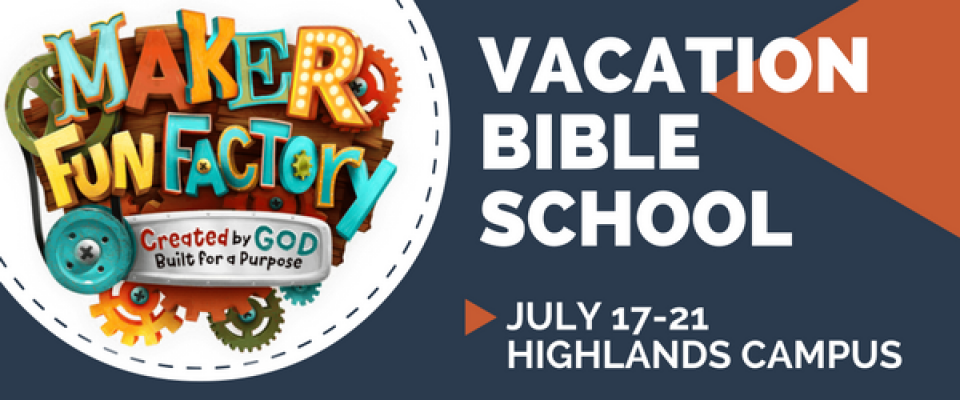 Daily, from 07/17/2017 to 07/21/2017, 9:00 AM - 12:00 PM
Maker Fun Factory - Created by God, Built for a Purpose!
Imagine a world where curious kids become hands-on inventors who discover they're lovingly crafted by God. Spark creativity with interactive experiences including lively activities, engaging experiments, fun snacks, new songs and the love of Jesus to take with them in life.
STUDENT PARTICIPANTS: Ages 3 through entering 5th grade
COST PER STUDENT: $25 before June 1, $30 on or after June 1
NEW THIS YEAR - PRESCHOOL VBS
Students ages 3 & 4 will begin their morning with all the students then move to separate classrooms with age specific activities, materials and content. It's a great way to include these younger students with age appropriate fun & learning! Preschool participants must be age 3 by May 1, 2017 and potty trained (bathroom independent).
Participant registration is FULL! We hope to see you at VBS next summer!
VOLUNTEERS NEEDED TOO! Parents, grandparents, aunts, uncles and older siblings are welcome to volunteer - entering 6th grade and up. It takes many volunteers to make this such an awesome week!

SMILE AND SAY HI! Volunteers of ALL ages are needed to greet our Vacation Bible School participants. Could you commit to one or more mornings for an hour to start the adventure for these kiddos with a high five? It's simple: smile and say hi as they enter into Highlands?