Memorial Garden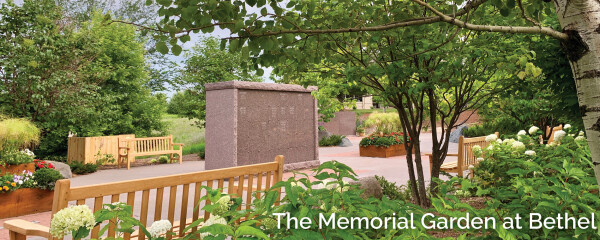 A ministry to fulfill the age-old tradition of the church to serve its members from baptism through death.
Bethel's memorial garden offers a beautiful setting housing columbaria and a memorial wall. Additional features include shade trees, a perennial garden, benches, nighttime lighting, and privacy, with easy access and handicap accessibility.
The columbarium is a granite structure providing niches (sacred openings) for the permanent placement of urns that hold cremated remains. Each niche holds up to two urns. The site is designed to hold three columbarium units.
The Memorial Wall offers a wonderful opportunity to honor a loved one by adding their name to a plaque for the wall. Each 2" x 5" steel plaque contains two lines: The first line lists the name of the deceased, the second line lists the year of their birth and of their death. Order forms for the plaques are available at the church office, both church Welcome Centers and by clicking here
Bethel's Memorial Garden is located at the Highlands Campus.
Summer Volunteer Opportunity in the Memorial Garden. Click here to sign-up!
Click here for a video tour of the Memorial Garden/Wall/Columbarium
Click here to see the Memorial Garden Brochure
For more information, contact the church office.

BETHEL MEMORIAL WALL
Memorial Wall Plaques may be ordered now. Plaques may be purchased by or for Bethel members and each inscription will be two lines, the first will contain the name of the deceased and the second line will list the birth and death years. Plaques are placed on the Wall twice a year, in the spring and in the fall. Order forms and pricing information are available at the Downtown office or please click on: Memorial Wall Inscription Order Form
The Memorial Wall is part of the Memorial Garden project. In addition to the Wall, the Garden holds an 80 niche granite Columbarium and is adorned with flower boxes all summer long as well as benches and shrubs throughout the garden. This is a peaceful area for remembrance and meditation.