Bethel is collecting a special offering for Lutheran World Relief's fund to help Ukrainian Refugees. Donations accepted online, by mail, or can be dropped off at Bethel's Downtown office (920 3rd St., Hudson, WI 54016). Click here to donate to the Lutheran World Relief's fund to help Ukrainian refugees.
---

EQUAL EXCHANGE
Bethel sells Equal Exchange Fairly Traded coffee, tea and cocoa mixes on the first Sunday of the month at the Bethel Downtown campus following the 8:00 AM service.
Equal Exchange is a worker-owned cooperative of small farmers, with a vision of a better world that connects us more closely to the food we eat and the farmers who grow it. When you purchase Equal Exchange coffee, tea, chocolate and other products, you join a network that enables farmers in Latin America, Africa and Asia to stay on their land, support their families, plan for the future, and care for the environment. At Bethel, we sell organically grown coffee, tea, cocoa mixes and chocolate bars at cost -- an equal exchange for a Fairly Traded product. Coffee - $8.00, Tea - $3.00, Hot Cocoa Mix - $5.00, Baking Cocoa - $5.00, and Chocolate Bars - $2.50. For more information, see their website at www.equalexchange.coop.
---
MISSION TANZANIA PARTNERSHIP
Bethel partners with an Iringa, Tanzania church called The Cathedral. This partnership includes periodic trips to the area, visits to Bethel from The Cathedral's leaders, and Bethel's sponsorship of students' education expenses in Iringa.
TANZANIA SCHOLARSHIP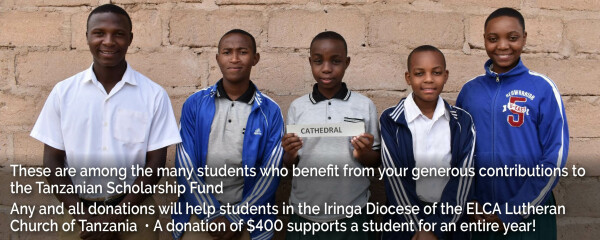 We would like to thank everyone for the contributions received last year for the Tanzania Scholarship Fund. Because of your generosity over 40 students received assistance with their school expenses. During a visit to Tanzania in 2018, the Bethel mission group visited with several students supported by Bethel members, who attend diocese schools, and had a meaningful time conversing and praying with the about their plans once they have completed secondary school. They offer you their gratitude for your assistance in their education and want you to know that they are praying for you. You are truly making a difference in their lives and the lives of their families. Click here to view thank you notes from students
The scholarship for each student remains at approximately $400/year. However, donations in any amount are welcome. Contributions are held in the scholarship fund at Bethel and the number of students supported depends on the money in the fund. Your donation can be made by check payable to Bethel Lutheran Church. Please make a note on the memo line of your check that this is for the Tanzania Scholarship Fund. Your check may be mailed to Bethel Lutheran Church, 920 third Street, Hudson, WI 54016. We would like to receive all donations by October 24, 2021, so we know how many students we will be able to support in 2022. Our goal is to sponsor at least 50 students.
If you have questions regarding this mission, please contact Mary Gerzmehle
---
FULLER CENTER REBUILDERS TRIP TO LOUISIANA | JANUARY, 2022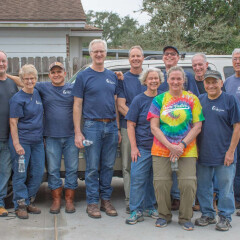 The next trip with Fuller Center Disaster ReBuilders is scheduled for Hammond, LA working on Hurricane Ida rebuilding. The dates are January 22-29, 2022. The group name is Hudson,WI Click Here for the link to sign up or for more information. Click here to contact local organizer, Alan Park with any questions.
---
---
FEED MY STARVING CHILDREN
Feed My Starving Children® is a Christian non-profit organization committed to feeding God's children hungry in body and spirit. The approach is simple: children and adults hand-pack meals specifically formulated for malnourished children. Bethel reserves packing times a number of times over the year.