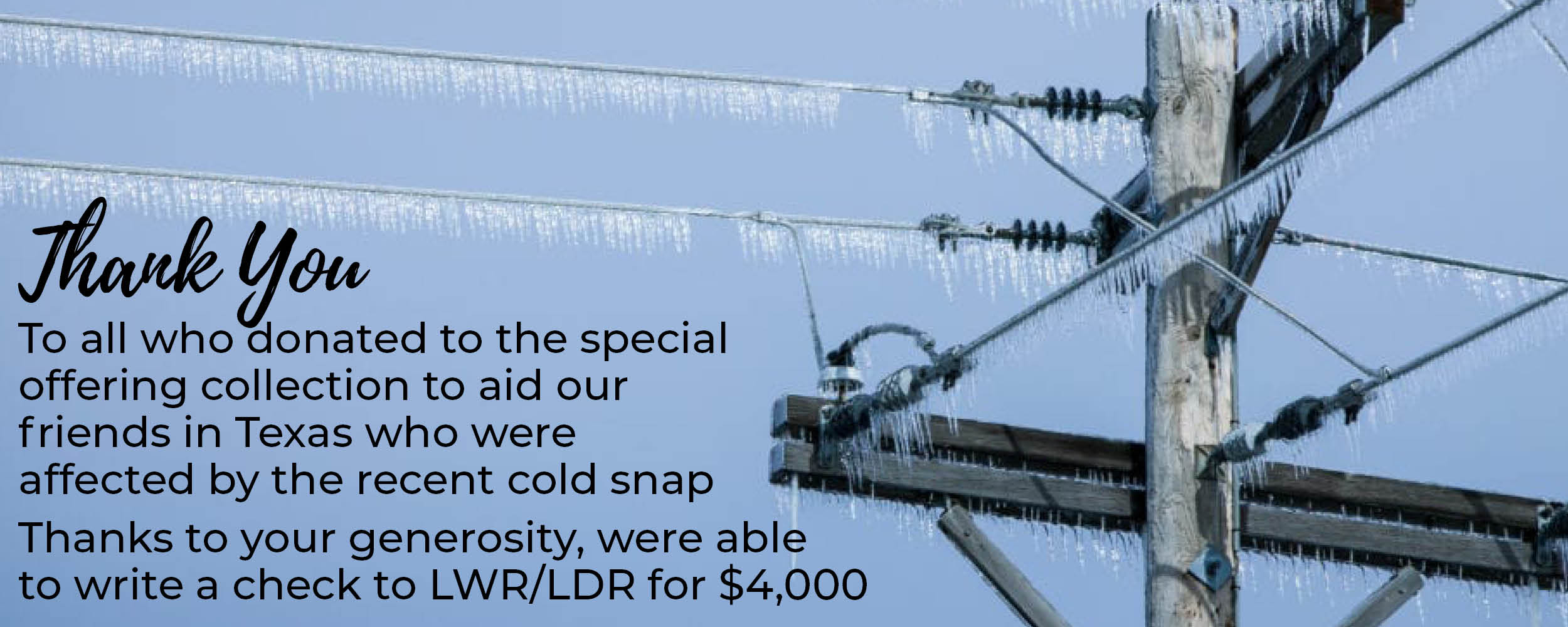 The recent cold snap in Texas, and the resultant failure of many of their power systems, proved devastating for many Texans. The generosity of Bethel members will make a difference in the lives of those in need of help.
---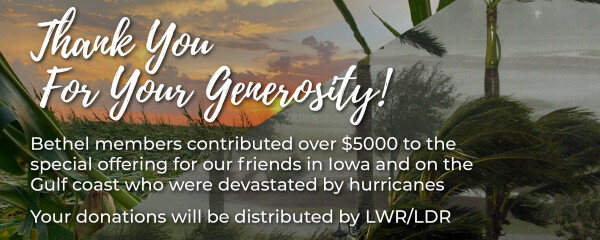 A NOTE FROM PASTOR JOHN…..
Thank you for your generous response to aid those in Iowa who were affected by a derecho (an inland hurricane) and those on the gulf coast affected by Hurricane Laura. Over $5000 was collected to be sent to Lutheran World Relief, their teams have been working diligently in the hurricanes struck.
Thank you for your willingness to "step up" and help our brothers and sisters in their time of disaster and great need..
All God's Blessings! Pastor John Lestock
---
MISSION TANZANIA PARTNERSHIP
Bethel partners with an Iringa, Tanzania church called The Cathedral. This partnership includes periodic trips to the area, visits to Bethel from The Cathedral's leaders, and Bethel's sponsorship of students' education expenses in Iringa.
TANZANIA SCHOLARSHIP
We would like to thank everyone for the contributions received last year for the Tanzania Scholarship Fund. Because of your generosity over 40 student received assistance with their school expenses. During a visit to Tanzania in 2018, the Bethel mission group visited with several students supported by Bethel members, who attend diocese schools, and had a meaningful time conversing and praying with the about their plans once they have completed secondary school. They offer you their gratitude for your assistance in their education and want you to know that they are praying for you. You are truly making a difference in their lives and the lives of their families.
The scholarship for each student remains at approximately $400/year. However, donations in any amount are welcome. Contributions are held in the scholarship fund at Bethel and the number of students supported depends on the money in the fund. Your donation can be made by check payable to Bethel Lutheran Church. Please make a note on the memo line of your check that this is for the Tanzania Scholarship Fund. Your check may be mailed to Bethel Lutheran Church, 920 third Street, Hudson, WI 54016. We would like to receive all donations by November 1, 2020, so we know how many students we will be able to support in 2021. Our goal is to sponsor at least 50 students.
If you have questions regarding this mission, please contact Alan Park.
---
FEED MY STARVING CHILDREN
Feed My Starving Children® is a Christian non-profit organization committed to feeding God's children hungry in body and spirit. The approach is simple: children and adults hand-pack meals specifically formulated for malnourished children. Bethel reserves packing times a number of times over the year.