BETHEL'S MISSION AND JUSTICE
We have compiled a list of all current opportunities and organizations Bethel partners with to serve our Church, Locally, and Globally.
Click here to download the Mission and Justice Booklet.
---

The Ruth Gathering of the Women of Bethel will be collecting school supplies for Lutheran World Relief School Kits. School kits contain essential supplies to help children continue learning in the face of serious obstacles. That learning leads to a better life for them, their families and their communities. School bags will be provided for filling with the following specific items:
FOUR 70-80 sheet SPIRAL Notebooks (280-300 sheets total of wide- or college-ruled paper approximately 8" X 10-1/2"; NO LOOSE-LEAF PAPER

ONE 30-centimeter ruler, or a ruler with centimeters on one side and inches on the other

ONE pencil sharpener

ONE pair blunt scissors (safety scissors with embedded steel blades work well)

FIVE unsharpened #2 pencils with erasers; secure together with a rubber band

FIVE black or blue ballpoint pens (No Gel Ink); secure together with a rubber band

ONE box of 16 or 24 crayons

ONE 2-1/2" eraser
The school bags with an attached list of items needed will be available at the Downtown campus beginning July 23 and the Highland campus beginning August 1st. Please take a bag, fill it with the needed supplies and return it to the bin labeled "LWR SCHOOL KITS" by September 30. If you can't fill a bag, you are welcome to donate any of the above listed items by placing them in the "LWR SCHOOL KITS" bin. We hope you will consider helping us fulfill this much needed mission project.
---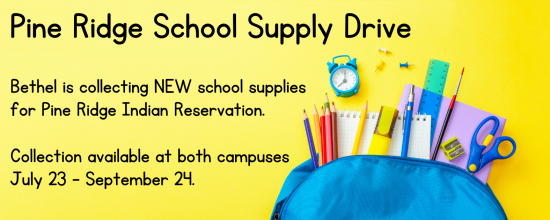 We are collecting NEW school supplies: paper, notebooks, pencils, highlighters, crayons, colored pencils, markers, scissors, rulers, glue sticks, Post-it Notes, backpacks. Donation drop off bins are located at both Bethel Campuses. For those who would prefer to donate monetarily, checks can be dropped off or mailed to the church office (920 3rd St. Hudson), dropped in the Sunday offering basket, or payment can be made online HERE.
The donations will be brought to Wolf Creek School on the reservation in the fall. Wolf Creek serves over 600 students pre-K through 8th grade. 99.5% of the students quality for free or reduced breakfast and lunch. Oglala Lakota County contained entirely within the boundaries of the Pine Ridge Reservation ranks as the poorest county in the nation.
Welcome Ukraine Team Update!
BIG NEWS!!! Our Ukrainian couple arrived on June 18th and were greeted by members of
the Welcome Ukraine Team! The family and the team want to sincerely thank those who
have contributed their time, money, and supplies toward helping this couple.
Items that are still needed include:
1) Funding towards living expenses until Lev and Anastasia become financially independent.
Tax-deductible donations may be made online at bethelhudson.org, choose GIVE/Give Now,
choose designation Welcome Ukraine. You may also call the church office at 715.386.8821 or
write Welcome Ukraine on the memo line of your donation check.
2) Gift cards to area businesses. Kwik Trip, Target, Walmart, Aldi, etc.
3) If you are interested in giving Lev and Anastasiia a tour of the area, or taking them to an event or local park, etc. please sign up at the welcome center at either campus.
Bethel's team includes Ann Martinson (Sponsor Group Lead), Aethan Hart, Curt and Sandy Larson, Paula Bhagyam, Juli Hilding, Karen Mueller, Roger and Karen Pavlis, Bette Vandersteen, Sally Giese and Sharon Tepper. Feel free to reach out to any committee member with questions. What an exciting chance to share God's love in motion!
---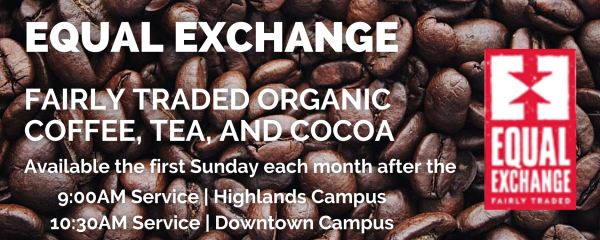 EQUAL EXCHANGE
Bethel sells Equal Exchange Fairly Traded coffee, tea and cocoa mixes on the first Sunday of the month at the Bethel Highlands campus following the 9:00AM service and at the Downtown Campus following the 10:30AM service.
Equal Exchange is a worker-owned cooperative of small farmers, with a vision of a better world that connects us more closely to the food we eat and the farmers who grow it. When you purchase Equal Exchange coffee, tea, chocolate and other products, you join a network that enables farmers in Latin America, Africa and Asia to stay on their land, support their families, plan for the future, and care for the environment. For more information, see their website at www.equalexchange.coop. On the first Sunday of the month at Bethel Downtown after the 8:00 AM service and at Bethel Highlands after the 9:30 AM service, we sell Equal Exchange Fairly Traded organically grown coffee, tea, cocoa mixes and chocolate bars at cost -- an equal exchange for a Fairly Traded product. For further information, contact Janet Benson at
---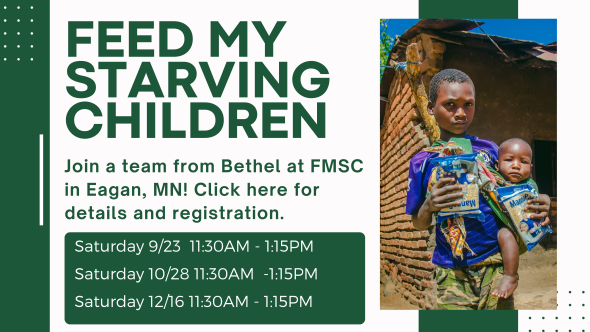 ---
MISSION TANZANIA PARTNERSHIP
Bethel partners with Iringa, Tanzania churches, Cathedral and Wilolesi. This partnership includes periodic trips to the area, visits to Bethel from Tanzanians.
TANZANIA SCHOLARSHIP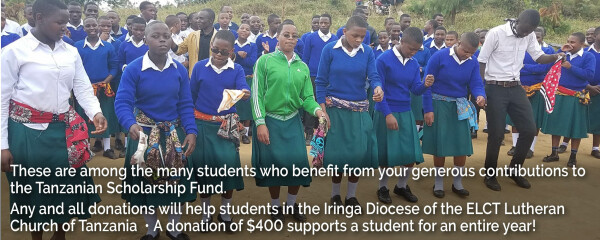 We would like to thank everyone for the contributions received in 2022 for the Tanzania Scholarship Fund. Because of your generosity, over 40 students received assistance with their school expenses. During a visit to Tanzania in 2018, the Bethel mission group visited with several students supported by Bethel members, who attend diocese schools, and had a meaningful time conversing and praying with the about their plans once they have completed secondary school. They offer you their gratitude for your assistance in their education and want you to know that they are praying for you. You are truly making a difference in their lives and the lives of their families.
The scholarship for each student remains at approximately $400/year. However, donations in any amount are welcome. Contributions are held in the scholarship fund at Bethel and the number of students supported depends on the money in the fund. Your donation can be made by check payable to Bethel Lutheran Church. Please make a note on the memo line of your check that this is for the Tanzania Scholarship Fund. Your check may be mailed to Bethel Lutheran Church, 920 Third Street, Hudson, WI 54016. Donations are also accepted online for the Tanzania Scholarship Fund here.
If you have questions regarding this mission, please contact Mary Gerzmehle
---
FEED MY STARVING CHILDREN
Feed My Starving Children® is a Christian non-profit organization committed to feeding God's children hungry in body and spirit. The approach is simple: children and adults hand-pack meals specifically formulated for malnourished children. Bethel reserves packing times a number of times over the year.