GOAL
We strive to build in each youth a strong biblical and Lutheran foundation as well as equip them to Connect, Grow, and Serve.
---

SUNDAY SCHOOL | 3 YEAR OLDS - GRADE 5
Classes will resume in September. Click HERE to register your student for the 2023-24 programming year.
Sunday School at Bethel is an opportunity for students ages 3 through 5th grade to learn about Jesus' love while worshiping together (must be age 3 by 9/1/2023 and potty trained). Classes are held at Highlands Campus during the 9:30am worship service on Sunday mornings from September through May. Students begin in worship with their parents and are dismissed to Sunday School after the Children's Message.
---
Faith Milestones
3 YEAR OLDS – WELCOME TO SUNDAY SCHOOL MILESTONE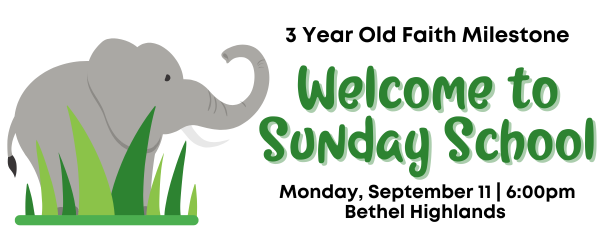 Parents and students learn all about the Sunday School process in preparation for the first day of Sunday School on September 24. These children will experience first-hand what it looks like and what to expect when they attend Sunday School each week. Plus, students receive their Storybook Bible!
To make sure your child is on this list, just register for Sunday School!
Click HERE to register for Sunday School.
---
Playground Playtime (Birth - Age 3)
Playground Playtime is an opportunity for the little ones to play on the Bethel Highlands playground (a fenced playground) while the parents can visit with one another. Older siblings are welcome, but please be respectful of the little ones playing. Mandy Gibbs, who leads the nursery on Sunday mornings during the school year, is there to meet the kids too!
Watch for upcoming Playground Playtime dates to be announced soon!
---
Kids Impact Day (students entering 4th & 5th grades)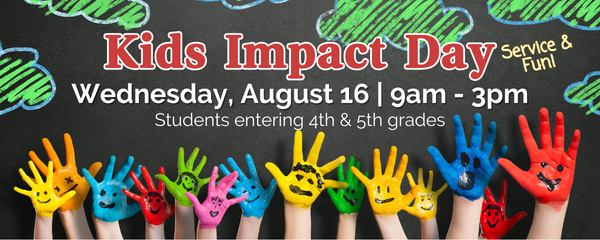 Wednesday, August 19 | 9am-3pm | Bethel Highlands

Cost: $5/student
Click HERE to register
Get ready for a day of service, devotion and fun! Students will begin the day with a devotion followed by an age appropriate service project. Following lunch, students will be transported by the Bethel van to a fun activity! Everyone will return to Highlands for a final snack and short devotion. Invite their friends too!
Parents - the event is possible with your help! Contact Carole De Jardin to volunteer for some or all of the day ( ).
---
Nursery
The Nursery is on Summer Break through June, July & August, resuming September 17. Activity bags are available at both locations to keep the kids engaged while you enjoy worship! Remember, children are always welcome in worship at Bethel!
During the school year, the Nursery is open during 9:30am worship for children from infancy - 3 years. Parents are offered a pager to be contacted if needed during worship. Older children are welcome to attend Sunday School or use an activity bag and attend worship. Children of all ages are welcomed at Bethel!
---
RESOURCES
Are you looking for ways to help your kids grow in faith at home together? Check out these great online resources: