Bethel offers a variety of clubs that bring people together with a common interest to enjoy fellowship with one another. You are invited to connect with any of these groups at a time that is convenient for you.
BETHEL BOOK CLUB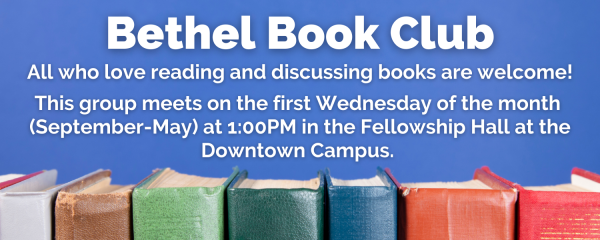 Click here to view the 2023-2024 book club list!
---
WOMEN OF BETHEL CLUBS
One of Bethel's biggest events each Fall is the Scandinavian Food Fest (SFF), put on by the Women of Bethel. The Food Fest provides a unique taste of Scandinavia with food demonstrations, a bake shop, a gift shop, and wonderful fellowship. We are currently making decisions for the date of the 2023 Scandinavian Food Fest. Check back for more information!
Here's a video on lefse-making 101, so you can practice your skills!
Women of Bethel invite you to be a part of these activities at the Downtown Campus:
Quilting: second Friday and the fourth Tuesday of each month at 9am
Hardanger: first and third Thursday of each month at 1pm.
---
The Next Chapter
Have you ever noticed that most churches have social activities for young families as well as for Seniors while not really providing much for those in the "middle"? Well, the Outreach Committee is forming a new group at Bethel - the Next Chapter. This group aims to provide social events for adults who want to connect outside of church. All are welcome, but we're specifically targeting adults (single and partnered) who are in the "middle chapter" such as those with older teens. empty nesters, and those without children. We hope this group will foster friendships and build community while having fun!
Next outing: TBD
---
CALENDAR OF EVENTS
On the Events page, you will find the times and locations for various club gatherings. Click HERE to view the calendar.