Bethel offers a variety of clubs that bring people together with a common interest to enjoy fellowship with one another. You are invited to connect with any of these groups at a time that is convenient for you.
BETHEL BOOK CLUB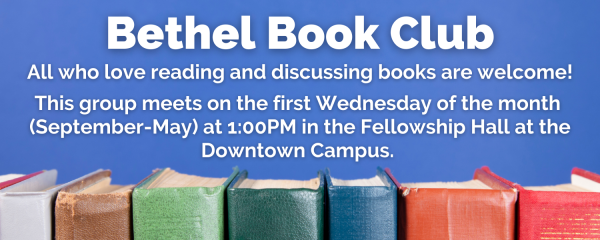 Click here to view the 2022-2023 book club list!
---
WOMEN OF BETHEL CLUBS
One of Bethel's biggest events each year is the Scandinavian Food Fest, put on by the Women of Bethel. Volunteers to help with this event are always welcome. Here's a video on lefse-making 101, so you can practice your skills!
Women of Bethel invite you to be a part of these activities at the Downtown Campus:
Quilting: second Friday and the fourth Tuesday of each month at 9am
Hardanger: first and third Thursday of each month at 1pm.
CALENDAR OF EVENTS
On the Events page, you will find the times and locations for various club gatherings. Click HERE to view the calendar.