The BeFriender Ministry at Bethel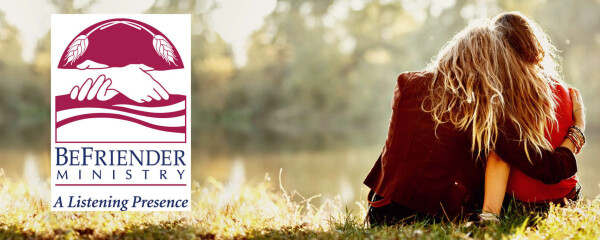 BeFriender Ministry is a national, ecumenical non-profit organization that provides leadership training and ongoing support for a listening ministry of lay care in churches, health care settings such as hospitals, assisted living-skilled care facilities, or other organizations. Since the early 1980's BeFrienders have been providing skilled care throughout the nation.
There are four key principles guiding BeFriender Ministry: God is present, caring not curing, nonjudgmental presence, and active listening. BeFrienders aim to be a listening ear and nonjudgmental presence to their fellow brother or sister in Christ. It is not a ministry that provides skilled nursing care, runs errands, provides transportation, or does housework for people. Rather, it is a relational ministry – being a "friend" to someone who may be going through a difficult time and just needs a listening ear and a reminder that not only is God with them, but as a congregation, we care as well. It is the reminder that they are not abandoned in their time of need.
Training is provided to make sure BeFrienders are adequately prepared and equipped to walk along side others and offer support. Along with Pastor Kris, four leaders – Jim Topitzhofer, Jennifer Griggs-Andress, Sue Powers, and Jean Johnson - stepped forward and completed the weeklong national leadership training. In addition, nine Befriender Ministers were recruited and completed 40 hours of training this fall to begin serving Bethel Church. Due to the COVID-19 Pandemic, all of these trainings took place via Zoom.
The capable team of Bethel Befriender Ministers is now ready to serve Church members and others that are struggling with life challenges and need someone to be there with them. If you know someone that could benefit from this listening ministry, please contact Pastor Kris ( ).
We are excited about this program and the impact it will have at Bethel
For additional details about Befrienders, please click here to visit their website
---
Worship Support Volunteers Needed

Bethel is back to in-person worship on Sundays and with that we could use a few more volunteers just prior to, during, and just after each service (duties include greeting guests, answering questions, guiding folks to great seats, helping during the offertory, etc.) Your commitment can be for one Sunday a month, every Sunday or just once in awhile - we're flexible!
Click here to email volunteer coordinator, Kathy Jeska if you have questions or if you would like to help.
---
Shuttle Bus Driver Volunteers Needed

---

Youth and adult volunteers are needed for the Nursery during the 9:30am Sunday worship so that it is easier for families with young children to come to church. There will soon be an 11am Sunday worship again so you won't even have to miss worship yourself. Can you help make this possible for young families? If so, contact Carole De Jardin ( ) or Kathy Jeska ( ).
---

Click on the image above to contact Pastor Kris
---
WORSHIP TEAM VOLUNTEERS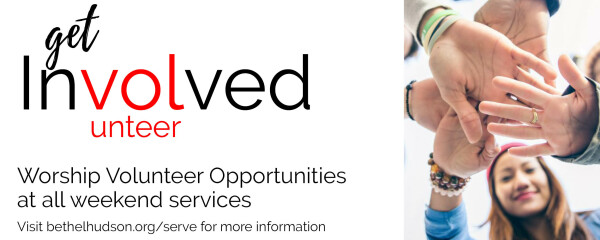 It takes many hands and hearts to provide a meaningful worship experience each week. Are you willing to volunteer once a month to greet, serve communion, usher, or advance the projection slides? No experience necessary for any of these tasks - just a joyful heart and welcome smile is all that is needed. Contact Kathy Jeska with your availability and desire.
8am & 11am Worship Team Schedules
5:30pm & 9:30am Worship Team Schedules
---
HELP NEEDED: CARPENTERS & SEAMSTRESSES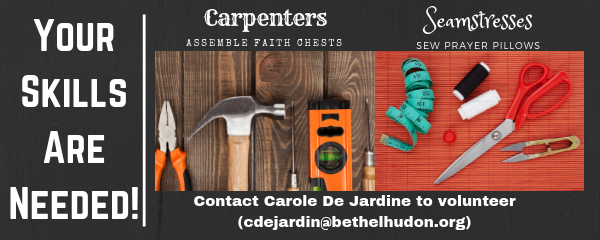 CARPENTERS
We are looking for individuals that enjoy cutting, sanding, building and finishing wood projects.
We are starting a new ministry for those who are baptized at Bethel. When a child is baptized they will receive a Faith Chest. The Faith Chest is designed to keep important things that help you grow on you faith journey. It might be a note from a Sunday School teacher or a certificate, or a program from a special worship service.
Contact Carole De Jardin for additional details or to volunteer ( ).
SEAMSTRESSES
We are looking for individuals to help with some sewing projects.
We are starting a new Faith Milestone for the Kindergartners - Prayer Pillows. Each of our Kindergarten students will learn about prayer and be blessed with a Prayer Pillow containing some prayer cards to get them started with their own prayers.
Thanks for offering to be a part of these important ministries!
Contact Carole De Jardin for additional details or to volunteer ( ).
---
HELPING HANDS MINISTRY
Bethel has several volunteers ready and willing to help as part of our Helping Hands Ministry group. Volunteers are ready to run errands, give rides, perform small home repairs or projects, do auto diagnostic or simple repairs, yard work, computer assistance, provide a meal, move furniture, among other things. If you or a loved one could benefit from a little extra help, please don't hesitate to ask Pastor Kris about this ministry.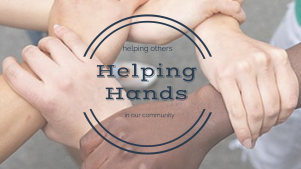 ---
FUNERAL RECEPTION VOLUNTEERS NEEDED
We are expanding our team of volunteers to serve at Bethel funeral receptions
Are you looking for a new way to get connected at Bethel? We are expanding our team of volunteers to serve at Bethel funeral receptions. Would you be willing to add your name to our contact list? Both men and women are welcome! Please call or email Juli Hilding for more information, at 715.386.8821 or . Many thanks!