H.O.M.E. MEALS AT BETHEL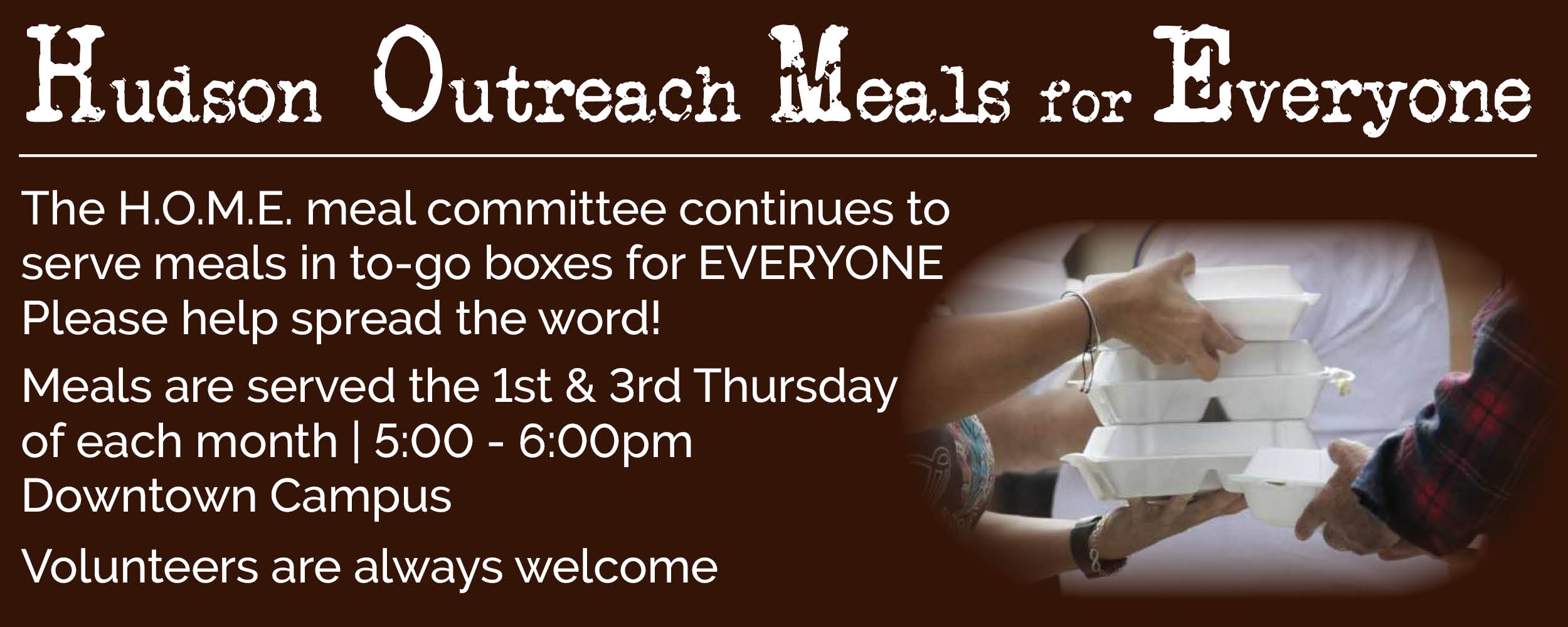 H.O.M.E. meal volunteers serve free meals in to go boxes on the 1st and 3rd Thursday of each month from 5:00 -6:00PM at the Downtown Campus.
Volunteers are always welcome, Click here to contact Volunteer Coordinator, Kathy Jeska
---
AMERICAN RED CROSS BLOOD DRIVE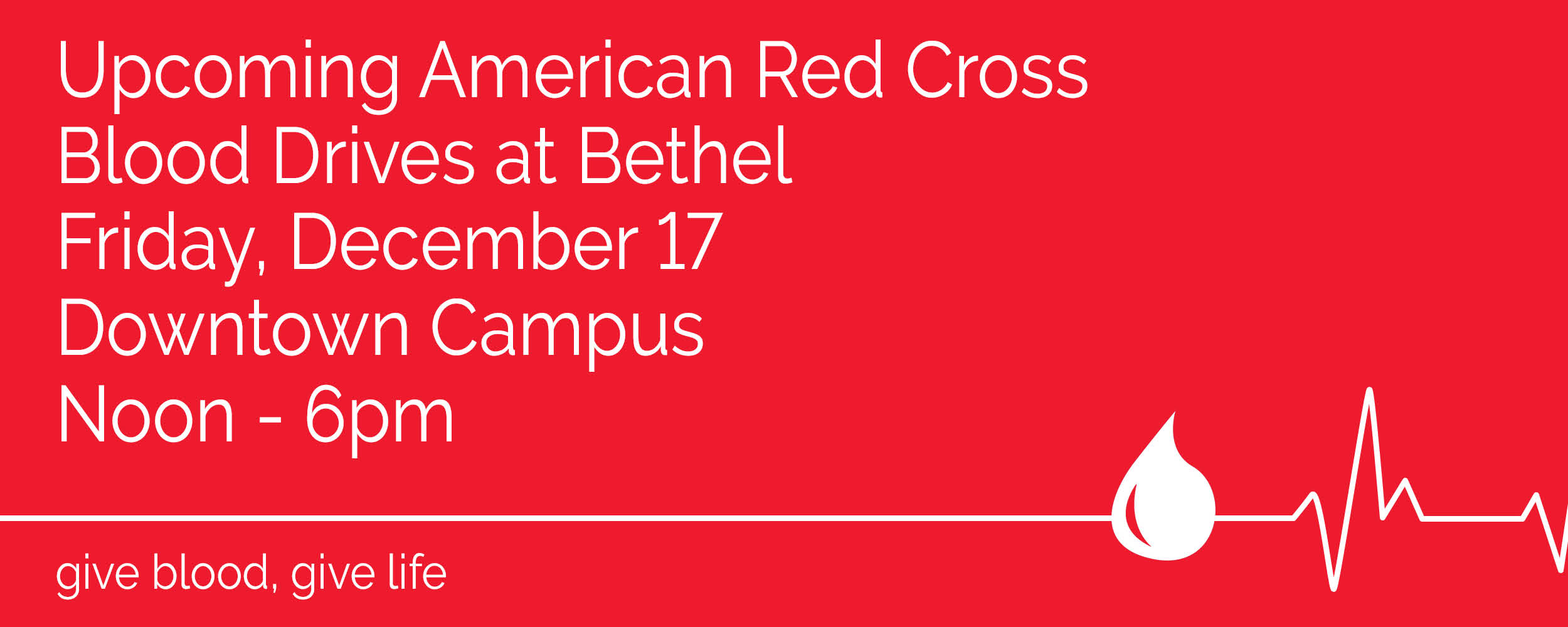 Click here to access the Red Cross website to arrange a time to give blood
---

BETHEL'S OPERATION HELP DRIVES (Giving Tree & Essentials) | CHRISTMAS 2021
Operation HELP provides residents of St. Croix County with financial assistance, a place for personal support, and connections to community resources to alleviate short-term economic crises.
Thank you to all who brought in gifts or donated money for the Operation Help Giving Tree and Essentials Campaigns. Because of you, Christmas morning was a
lot brighter for many families in our area.
This year we provided three wants, two needs, socks/underwear and hats/mittens for 35 Hudson kids (that is 315 gifts)! In addition we provided:
• Wrapping paper and tape for the parents
• 17 additional sets of socks
• 14 additional sets of underwear
• 35 additional hats
• 15 additional mittens/gloves, and
• $587 of additional Christmas gifts (aka 31 gifts) for other Operation Help families. (note: we collected $755 in donations and $168 went to supporting the 35 kids listed above)
In addition, the Essentials Campaign delivered 65 sets of shampoo & conditioner to Operation Help.
Thank you to Bethel's Giving Tree coordinator, Koreen Theisen and Essentials campaign coordinator Laura Ludeman.
---

For all those concerned about this humanitarian need:
Click here to donate new clothes via Amazon Wish List | Search "Ft McCoy Resettlement" and find a list which highlights:
Ethnic style dresses
Smaller sizes
Winter clothes/boots
Click here for Lutheran Social Services of Wisconsin and UP Michigan
Looking for host families/communities for long term sponsorship and housing
Click here for a list of Salvation Army locations where donated NEW Clothes can be dropped off (none very close, unfortunately):
Both Lutheran Social Services of Wisconsin and UP Michigan and the Salvation Army are also taking monetary donations earmarked for Afghanistan refugee needs and tax deductible donations can be made electronically at their respective websites.
---
SOUP-ER BOWL

The photos below represent what was loaded up on Tuesday, February 9 from the Downtown Campus.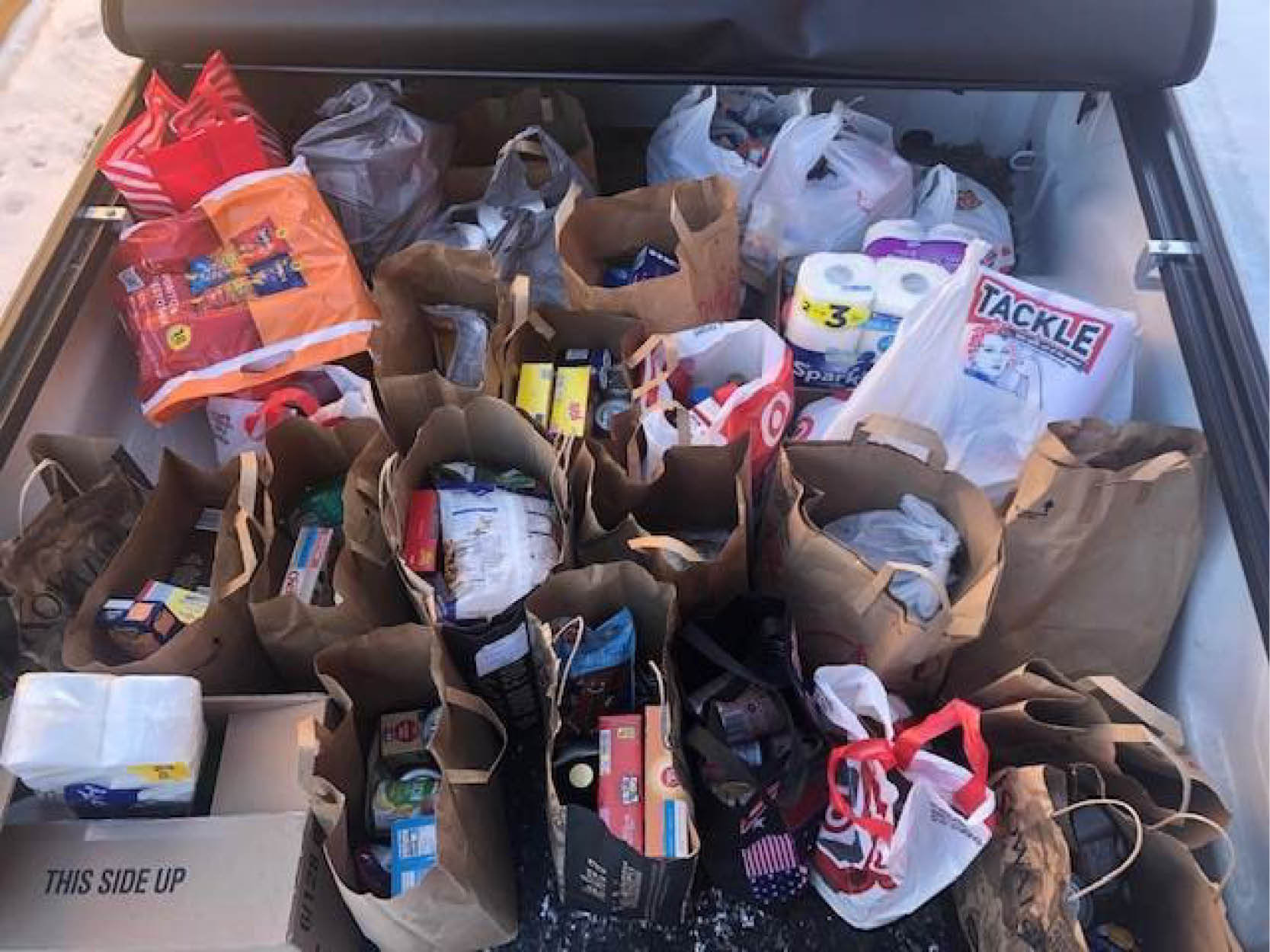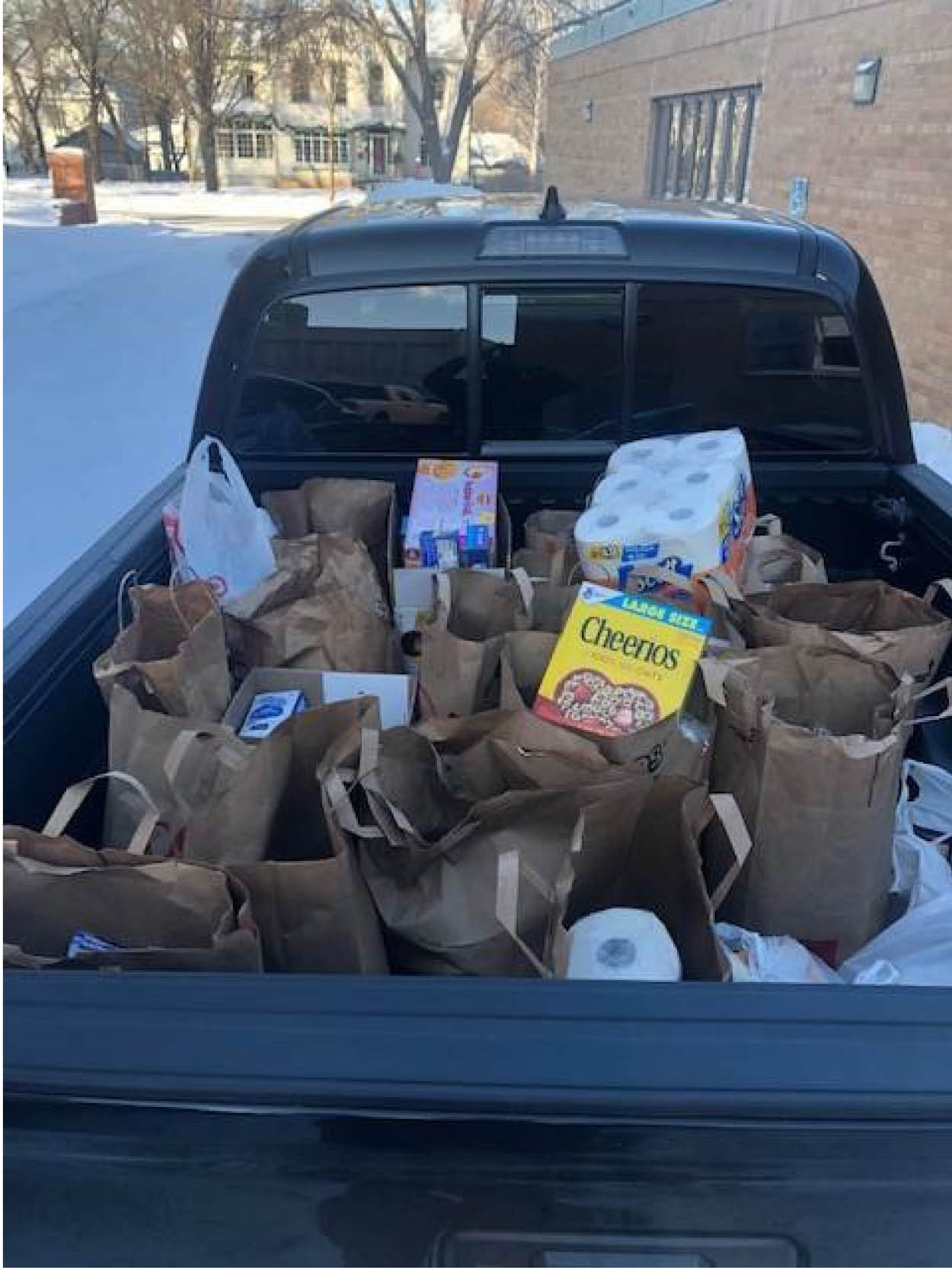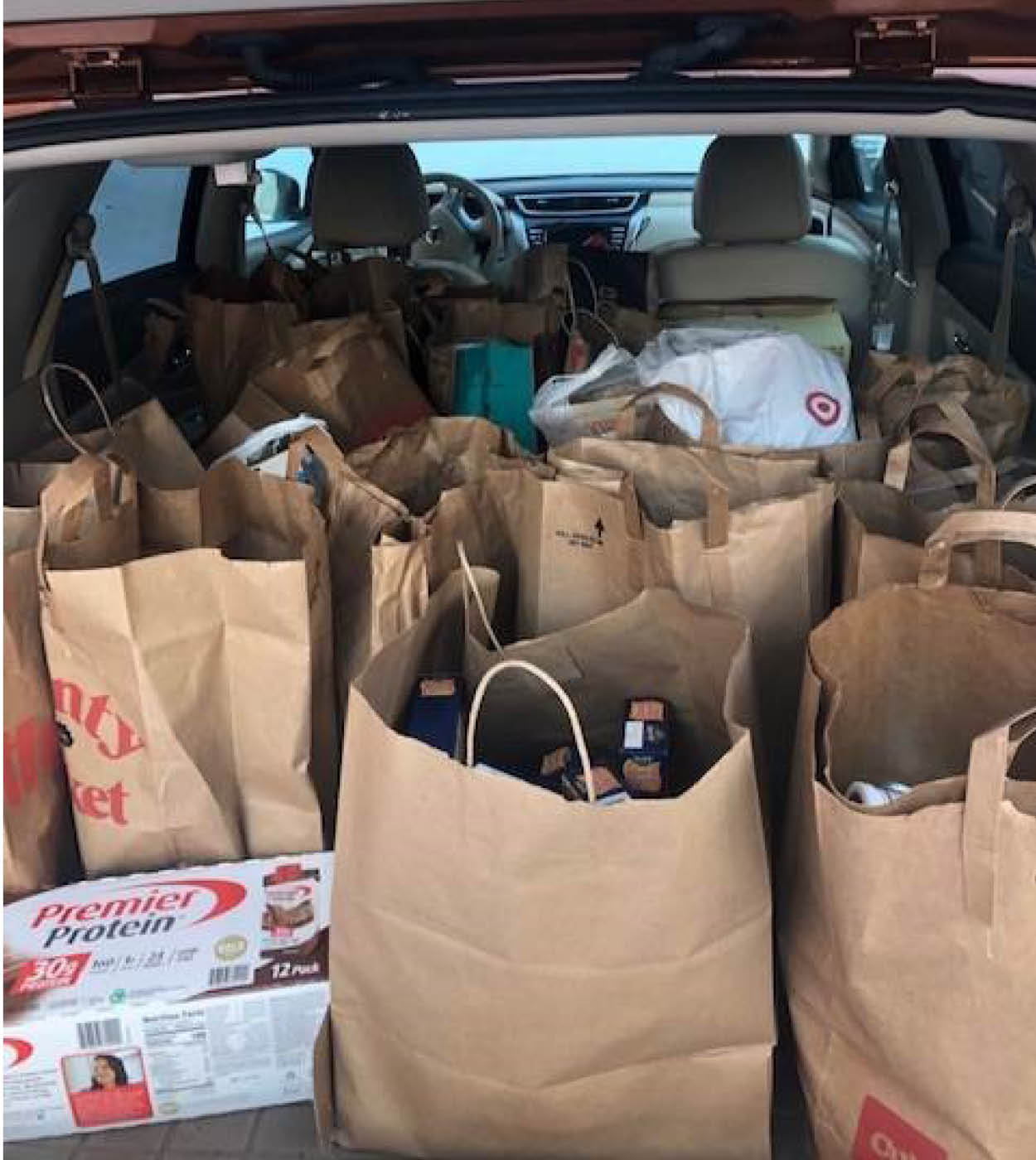 ---
BETHEL'S GOOD SAMARITAN FUND
Bethel's Good Samaritan Fund has been helping your neighbor need for many years. There are many ways to contribute to this fund, you can mail or drop off a check at the Bethel Downtown office, 920 Third St., Hudson, WI 54016 (please add Good Samaritan Fund on the memo line) or you can give online - please click here. On the designation drop down menu, please choose Good Samaritan Mission.
---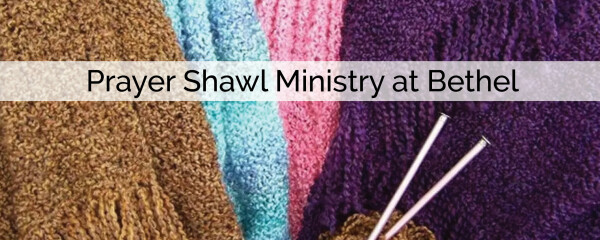 A prayer shawl is a wearable hug crafted with love, intent, and prayers from maker to recipient. The shawl as it's being made is meant to offer comfort and solace, in times of need to those who wear it.

The prayer shawl ministry is looking for knitters to help make prayer shawls. Yarn, needles and instructions, are all supplied.
If you can help, please click here to contact Jackie Hugdahl or click here to contact Sheila Wiemerslage
---
Making Masks Ministry
Bethel, in conjunction with HAMA (the Hudson Area Ministerial Association) is encouraging people to sew facemasks for those in need.
Masks and supplies can be dropped off in the bin by the entrance of St. Patrick Church, 1500 Vine Street.
Click here for a pattern for facemasks
Questions? Click here to email HAMA's Making Masks Ministry, coordinator Nini Milbrath
---

HELPING HANDS MINISTRY
Helping Hands is a group of volunteers from Bethel that will try to fill occasional requests our members might need help with, such as giving a ride, moving a piece of furniture, fixing something, or so forth. If you would like to volunteer to be a part of this ministry (or if you have a request for help), please let Pastor Kris or Kim Evers know and they will add you to the list to serve!
---
PLEASE NOTE THAT DURING THIS TIME OF COVID 19, MANY OF THE PLACES BETHEL REGULARLY REACHES OUT TO HELP HAVE TEMPORARILY SUSPENDED NORMAL VOLUNTEER ACTIVITIES
---
GRACE PLACE
Grace Place offers shelter to families and single individuals in the St. Croix River Valley, including residents of St. Croix, Pierce and Polk Counties.
Volunteers from Bethel purchase, prepare and serve dinner on the second Tuesday of each month at Grace Place.
If you are interested in serving in this capacity, contact Kathy Jeska.
---
DOROTHY DAY SERVING

A team from Bethel will serve at Dorothy Day Center downtown St. Paul on the first Sunday of the month (1-5:30pm). Would you like to participate in this ministry? Chuck Lewis and Kathy Jeska are leading this mission.
CLICK HERE to be scheduled to serve the meal
CLICK HERE to help provide the food
---
FOOD DRIVE FOR THOSE AFFECTED BY VIOLENCE IN ST. PAUL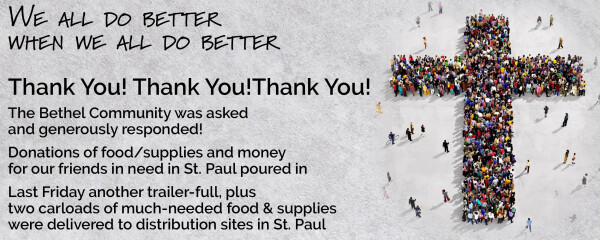 Last week Bethel hosted a food/supply drive for our neighbors in need in St. Paul. AND WOW -- you responded quickly and generously! Donations filled the lobby area downtown and nearly $4000 was raised for additional supplies. Jake and Pastor Ladd delivered pallets of food and supplies last Friday and Saturday.
Jacob (Jake) Summerville, who leads High School Ministry here at Bethel, lives near the Midway and has been volunteering as his neighbors get back on their feet and the neighborhood begins to rebuild.
Click here to get an overview what's happening at Bethlehem Lutheran Church in the Midway (where many of the supplies collected at Bethel went)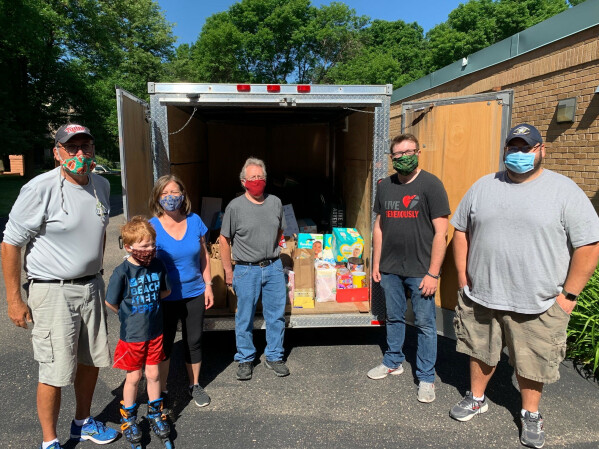 The image above is of the crew loading the trailer full of supplies.