Bethel Lutheran Church turns 150 years old this year! On Sunday, April 30th we celebrated Bethel's history by honoring past and present Bethel Pastors, unveiling the "Fabric of Bethel" Quilt, and an entertaining program from comedian, Bob Stromberg. Thank you to all who joined us in the celebration! If you are interesting in viewing the recording of the event, please contact Hannah Erickson for the link. We still have Bethel 150th Anniversary Ornaments for sale - Please visit Bethel's Downtown Campus to purchase in-person or click here to order online.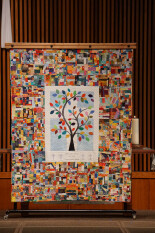 The Fabric of Bethel: 150th Anniversary Quilt
As Bethel Lutheran Church geared up to celebrate 150 years of existence, Karen Pavlis was inspired to construct a quilt as a way to demonstrate how each of us is an integral part of a much larger picture! We are excited to see the "fabric" of Bethel work together to highlight our mission to Connect, Grow, and Serve. The quilt was showcased at the 150th Program and is on display at Bethel's Downtown Campus.
Bethel Lutheran Church History Booklets (Click on the links below to view the virtual booklets)
Bethel Lutheran Church Pastors Through the Years
Bethel Lutheran Church History Videos 1873-2023
1873-1923
1923-1973
1973-1998
1998-2011
2011-2023