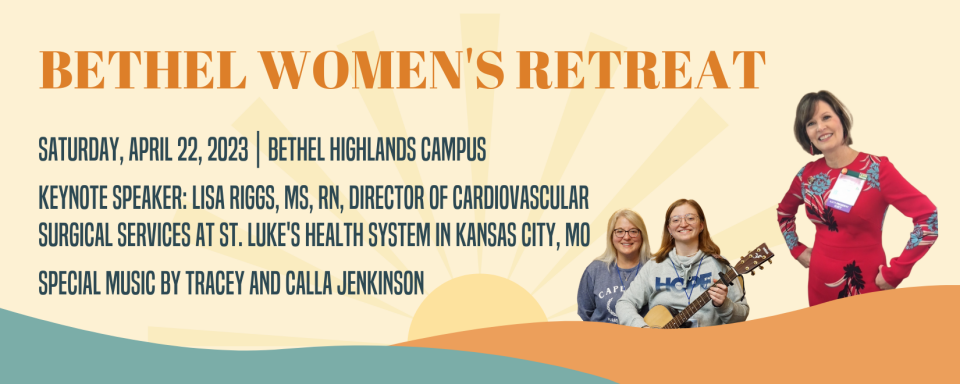 Saturday, April 22, 2023, 9:00 AM - 4:00 PM
This year's retreat will be a Saturday event at the Bethel Lutheran Church Highlands Campus in Hudson, WI.
There's lots to look forward to at the close-to-home 2023 retreat! We are pleased to welcome Keynote Speaker, Lisa Riggs, MS, RN, Director of Cardiovascular Surgical Services at St. Luke's Health System in Kansas, City, MO. We will also welcome the talented duo of Tracey and Calla Jenkinson to lead us in special music throughout the day.
Join other Bethel women and friends for a day focused on spiritual growth and renewal, self-care, women's health, and wellness! Enjoy wonderful speakers, music, times of prayer and reflection. We have a variety of breakout sessions to take part in throughout the day. Light refreshments will be available in the morning, and lunch will be catered. We hope to see you there!
Space is limited, secure your registration with payment.
Theme: 'A cheerful heart is good for the soul' Proverbs 17:22
Location: Bethel Highlands Campus - 504 Frontage Road, Hudson, WI 54016
Cost: $50 (Due to the advance planning necessary for this event all fees associated with this retreat (retreat fee and hoodie) are non-refundable)
Optional Retreat Sweatshirts: You may also purchase a hoodie sweatshirt or fleece sweatshirt with the retreat theme (shown below). It comes in sizes S - 2XL. Cost for each sweatshirt is $34. Orders are due by March 24, 2023. *Please note: There are samples to try on for size at the Downtown office. If you would like to purchase a sweatshirt after trying on our sample sizing, you are able to do so with a separate registration form.