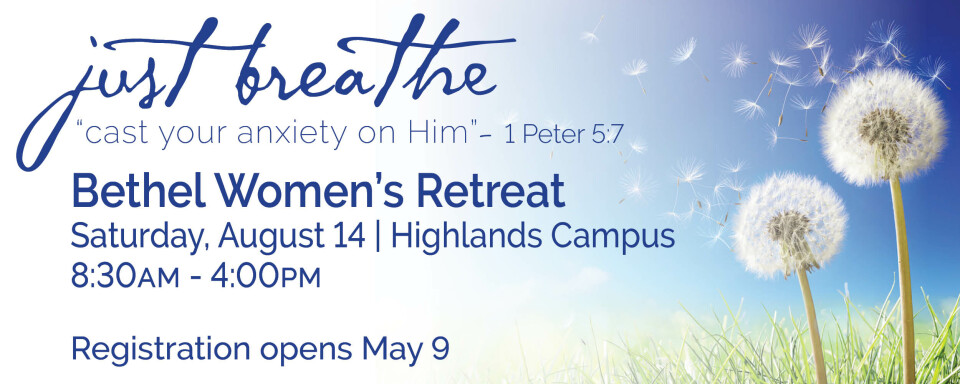 Saturday, August 14, 2021, 8:30 AM - 4:00 PM
Bethel's Women's Retreat
Saturday, August 14 | Highlands Campus | 8:30am - 4:00pm | $35*
Join other Bethel women and friends for a day of renewal and spiritual growth.
Featuring special guest, Acclaimed Singer, Songwriter, Storyteller, Rachel Kurtz. Click here to view Rachel's website
Click here to see Rachel sing Halleluja at an ELCA Youth Gathering
The group Psalm 96 will also be providing great music throughout the day.
The day will include: times of prayer and reflection; a fabulous catered light breakfast, lunch, and snacks; a gift bag for all participants; a shopping area featuring local, women-owned businesses. Mostly though, this is a day just for you! Learn a little, explore your creativity, relax and renew your spirit, all while strengthening friendships and forging new ones.
*Details on all optional purchases (Painting with Audrey Class | Holy Yoga Classes | Retreat T-shirt) listed below
Optional, Retreat Break-out sessions/add-on choices for free time include:
Healing Plants and Herbs
Learn how to use plants for health and wellness. Dr. Sonja Maki, horticulturist from UW-River Falls, will talk about healing plants and herbs and plants for all of our senses. She'll also provide information on some of the latest trends in interiorscaping and growing systems!
Yoga - with Maria Paulson of St. Croix Valley Holy Yoga
*$10 per class or $15 for both classes, pay in person | *Please bring your own yoga mat and water bottle
Option 1 - Gentle Holy Yoga is a soft and slow exploration of postures and breath. Gentle does not mean easy. You can be challenged here! Great for beginners, or just as an opportunity to let God's grace in as you rest in Him. All levels welcome.
Option 2 - Holy Yoga Flow is a linking together of yoga poses and breathing. This is a basic yet challenging class. It's a bit faster paced than a gentle class, but allows for variations and modifications. All levels welcome.
Every class begins and ends with prayer. Music is played that centers around Jesus throughout the entire practice helping you to focus on Him. As we move through the postures, I will weave the Word Of God into the movements giving you a time to reflect, give thanks, and to be still.
Painting with Audrey Martin
$25/person (Audrey's normal in-person class fee is $45) for supplies/class
Celebrated local artist and teacher, Audrey Martin, has created an original painting, Just Breathe, for the Women's Retreat at Bethel. Class participants will receive expert, step-by-step instruction, and everything they need to complete their painting during this 90-minute class.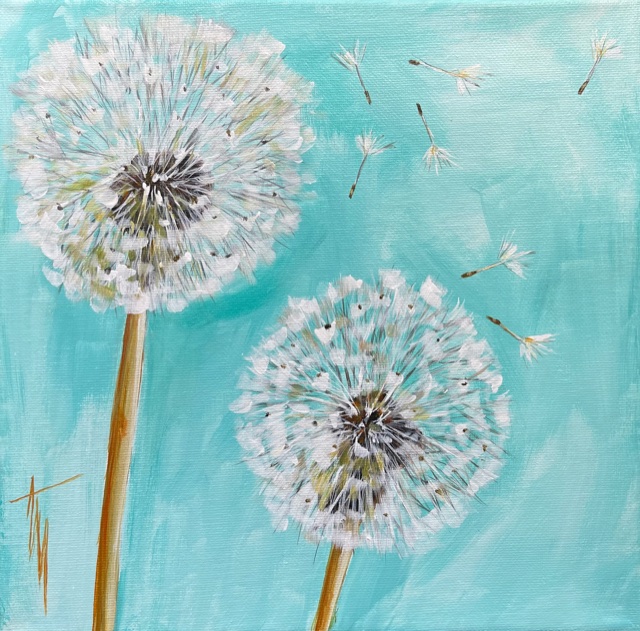 Home Organizing: Let's get started! - Naomi Sonnenberg
Are you feeling overwhelmed with clutter and disorganization in your home? This session aims to equip you with practical knowledge and skills that will help you organize your home in a way that best serves the needs of you and your family.
Naomi Sonnenberg is a professional organizer with three years of experience. She is a member of NAPO (National Association of Productivity and Organizing specialists). Naomi is a stay-at-home mom of three who is especially passionate about helping busy families organize their homes and create functional systems that foster a more peaceful home environment; where everything has a place, and everyone has more time and space to do the things they love.
Retreat T-Shirt | $15