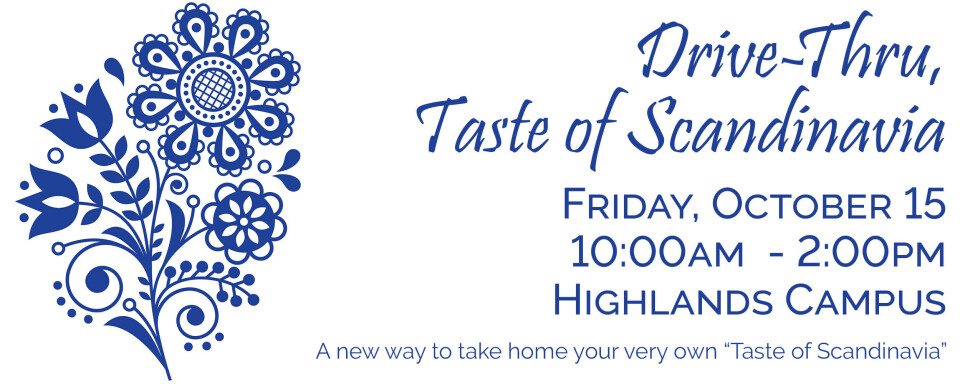 Friday, October 15, 2021, 10:00 AM - 2:00 PM
Drive-Thru, Taste of Scandinavia
Friday, October 15 | 10:00AM - 2:00PM | Highlands Parking Lot
VOLUNTEERS needed the day of the event - click HERE to sign up now!
In October of 1991, the first Scandinavian Food Fest was held when a few ladies of Bethel wanted to raise money to buy round tables for the fellowship hall, while sharing their Scandinavian heritage with dishes from the "old country." Word soon spread, and each year the Scandinavian Food Fest has grown in size as visitors from miles around make an annual pilgrimage to Bethel to sample traditional Scandinavian treats, shop and enjoy traditional music. Though the pandemic curtailed this event last year (and still looms as a concern), the Women of Bethel have rallied, coming up with a creative way to host a modified "Drive-Thru" version of the Scandinavian Food Fest. As the name implies, you will be able to drive in, place an order and drive out with your very own "Taste of Scandinavia."
If you've been making Scandinavian treats forever, we need your skills & expertise! If you don't know a fattigmann from a sandbakkel, we need you too — this is a great opportunity to learn from the experts! Below is a list of preparation dates for some of the delectable Scandinavian treats that will be available at the Drive-Thru, Taste of Scandinavia. Please click here to contact event coordinator, Gail Nolan if you would like to help.
You may also use the signup genius to signup for specific preparation sessions.
MEATBALLS
Wednesday, September 15 | 9:00am, Prep | Thursday, September 16, Bake & Package | Highlands Campus
Coordinators: Janet Gavic & Becky Schoeberlein
KRUMKAKA
Saturday, September 18 | 9:00am - noon | Downtown Campus
Coordinators: Cynthia Huntley
LEFSE
Monday, September 20 | 9:00am, Cook Potatoes | Tuesday, September 21 | 9:00am-2:00pm, Roll & Pkg.
Wednesday, September 22 | 9:00am - noon, Roll & Pkg. | All at the Downtown Campus
Coordinators: Vi Engebretson & Cid Phillips
SANDBAKKELS
Wednesday, September 29 | 9:00am | Highlands Campus
Coordinator: Lori Jacobson
ROSETTES
Friday, October 1 | 9:00am | Saturday, October 2, 9:00am | Downtown Campus
Coordinators: Kathy Enerson & Lori Jacobson
FATTIGMANN
Tuesday, October 5 | 9:00am | Downtown Campus
Coordinator: Cid Phillips
RULLEPOLSE
Monday, October 11 | 10:00am, Prep | Tuesday, October 12 | 10:00am, Assemble & Cook | Downtown Campus
Coordinators: Bob Wall & Cynthia Huntley