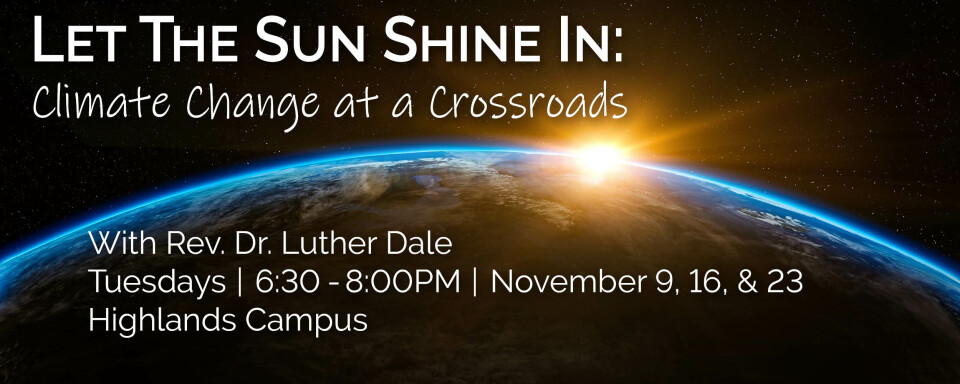 Every Tuesday, from 11/09/2021 to 11/23/2021, 6:30 PM - 8:00 PM
This series with Rev. Dr. Luther Dale will address the current climate situation, including outcomes from the the United Nations Convention on Climate Change* meeting in Glasgow, Scotland, November 7-18.
Topics discussed will be:
Session 1: What's really going on with the climate?
Session 2: How bright(or dark) is our future and where does our Christian faith fit in?
Session 3: What do we all need to be doing for a brighter future?
Classes will be held on Tuesdays, November 9, 16, and 23 | Highlands Campus | 6:30 - 8:00pm
Rev. Dr. Luther Dale is a former teaching Pastor at Incarnation Lutheran Church, North Oaks. He is a long-time advocate for the value of God's creation. He has served in numerous leadership capacities for the North Star Chapter and on national committees for the Sierra Club. In 2015 he was given the William E. Colby Award, the highest volunteer award given by the national Sierra Club Organization. He has also worked in publishing and organizational development. He lives in /Shoreview, MN, with his wife Roberta, where he bikes, walks and reads.
*These annual UN conferences bring together those that have signed the United Nations Framework Convention on Climate Change (UNFCCC), an international environmental treaty addressing climate change. Effectively every nation, country, or state in the world is involved, giving a total of 197 signatory parties.