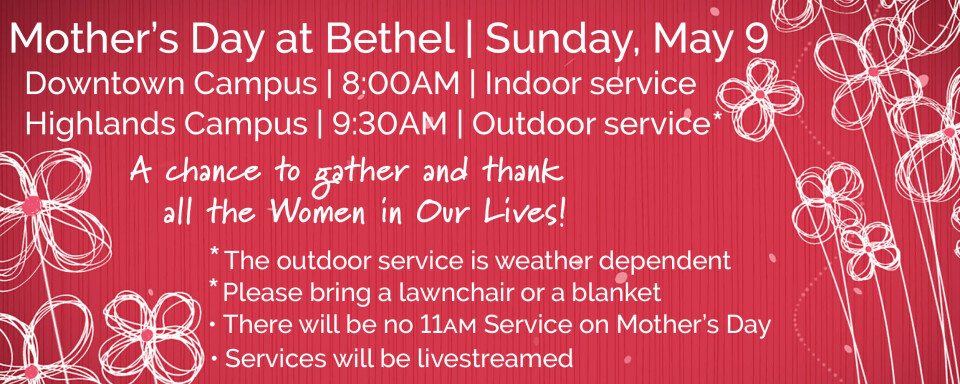 Sunday, May 09, 2021, 8:00 AM - 12:05 PM
Mother's Day - What a wonderful opportunity to gather and thank all the Women in Our Lives!
There are a couple of options/ways to celebrate Mother's Day at Bethel this year. Services Will Be:
Inside -With limited, reserved seating at the 8:00AM service.
Outside - The 9:30 service at the Highlands Campus will be outside.

Since we'll be gathered outside, there will be no indoor seating
Please bring a lawn chair or a blanket for outdoor worship.
The 9:30 service will be held outside. Bring a lawn chair and grab a spot. NO reservations necessary to attend outdoor worship services.

Since the 9:30AM worship service is being held outdoors, there will be NO 11:00AM Service (inside or outside)
Each service will be livestreaming on Bethel's: Facebook page here on the website, and on Bethel's YouTube Channel
Mother's Day Worship Service | Downtown Campus
• 8:00AM Traditional/Indoor (broadcast on WEVR radio too) | Click here to reserve your spot for the 8:00AM Service
Mother's Day Worship Service | Highlands Campus
• 9:30AM Contemporary/Outside
• Since the 9:30AM service is being held outside, the will be NO 11:00AM service.
Reminders for outdoor worship:
Come early, bring your lawn chair and grab a spot.
We will be following social distance guidelines and we ask that everyone wear a mask as they move through the crowd to their seats.
We'll have activity kits for kids, and communion kits for everyone in attendance.
This will be our second outdoor worship service of 2021, we ask that you pray our well-laid plans work out and it's a great Mother's Day worship experience for everyone!
The service will also be livestreamed on Bethel's Facebook page, YouTube channel and here on the Bethel website, so if you can't be there in person, you can still watch from your favorite spot.
You may want to bring sunglasses and/or a hat and sunscreen!