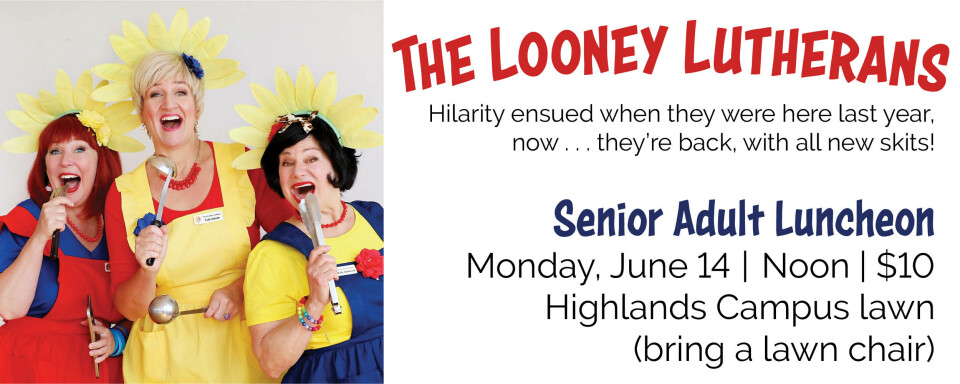 Monday, June 14, 2021, 12:00 PM - 1:00 PM
You loved the Looney Lutherans when they were here last fall . . . and THEY'RE BACK! They'll be sharing all new skits -- can't wait to see what they've dreamed up over the past year!
This special outdoor performance by the Looney Lutherans (formerly the Church Basement Ladies) will be at our Bethel Highlands Campus:
WHAT: A Senior Adult Brunch
WHEN: Monday, June 14 at noon
WHERE: The lawn of Bethel Highlands campus
WHY: To gather with friends share some laughs together
WHAT TO BRING: A lawn chair, a mask, and sun screen
COST: $10
WHAT TO EXPECT: A little music; A half hour performance by the Looney Lutherans; An opportunity to be together with Bethel friends; A delicious light box lunch
We'll be outside socially distanced, and possibly masked (we'll follow the most current CDC guidelines that day). Our commitment is to your health and safety AND enjoying some time together.
For convenience, you may register online - CLICK HERE TO REGISTER ONLINE. You can also mail in your check, or drop it off in our downtown office (Mon-Fri from 9am - 4pm) so we receive it by Wednesday, June 9, to reserve your spot. This will assist us in planning. Don't hesitate to call the office (715.386.8821) if you have any questions.