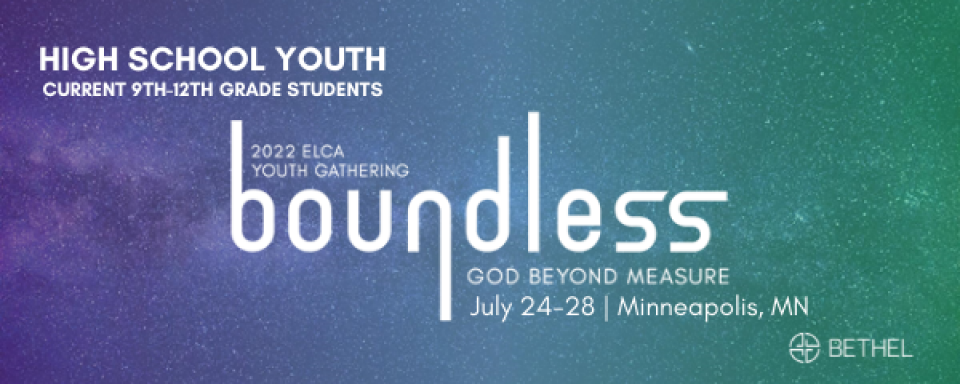 Sunday, July 24, 2022 - Thursday, July 28, 2022
Every three years, 30,000 high school youth and their adult leaders from across the Evangelical Lutheran Church in America gather for a week of faith formation known as the ELCA Youth Gathering. Through days spent in interactive learning, worship, Bible study, service and fellowship, young people grow in faith and are challenged and inspired to live their faith in their daily lives.
This is your chance to experience boundless | GOD BEYOND MEASURE!
This Gathering is close to home, but we will still be traveling to Minneapolis and staying at a hotel. We will also be adding a fun group event before the Gathering so stay tuned for more details!
Click HERE to learn more about the Gathering.
COST DETAILS & PAYMENT SCHEDULE
Early bird registration is now through November 21 when the price increases by $40. This price includes the participation fee, transportation, housing, meals, t-shirt. Students should plan to bring spending money for snacks, swag and worship offering.
$150 non-refundable deposit due at registration
$330 balance due by May 27
ADDITIONAL FORMS
Beyond registration and payment, additional forms are needed to complete registration. Click the links below to complete all the forms.
YG2022_Youth_Participant_Release
SCHOLARSHIPS
There are funds available for scholarships for this event. CLICK HERE TO APPLY FOR SCHOLARSHIP
COVID-19 & THE GATHERING
It appears Covid will be with us for the forseeable future but things are constantly changing. Click HERE to learn the latest about Covid and the Gathering.