LENTEN DEVOTIONAL, DAY 1, WEDNESDAY, FEBRUARY 17. 2021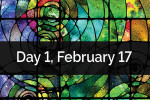 "God is my rock and my salvation – my stronghold! I shall not be shaken."
2020 was a difficult year for many of us. As a community and country, we battled a worldwide pandemic unlike anything we have seen before. While navigating those challenging times, we had the heartbreaking murder of George Floyd and the civil unrest that followed.
There was disruption and change in nearly every area of our lives. My family was no exception. Working in healthcare human resources, I participated in meetings where we planned for the worst, hoping and praying it would not come. Those days were long and grueling. I saw the best and the worst in my colleagues and myself during the early days of the pandemic. It was in those days that the fear and anxiety was at times all consuming. Personally, my worries were the same as many others. How would my youngest daughter do with distance learning, would she fall behind? What would the impact be on my oldest daughter's college classes, would she need to place those plans on hold? Was my job secure? Did my mom have everything she needed to be able to stay home and safe? Was she lonely? And the most daunting and terrifying question of all, if I or someone I loved contracted the disease, what would our outcome be?
It was during these times that I looked to God for support and shared my worries through prayer. Each evening I would lay my concerns and prayers before God and ask him to watch over us and be with us through all that was left to endure. My time spent in prayer offered perspective and peace at a time when I needed it most. The challenging times were not taken away, but my conversations with God cleared my mind and helped me face those challenges one at a time.
Today, there is renewed hope and optimism that one day soon we will be on the other side of this virus. As that day approaches, I look back on this experience and know that as difficult as it was, it brought me closer to God and reminded me to look to him in troubled times. He will always be there.
Prayer: Loving Father, thank You for being our rock and our salvation. In good times and in bad You hear our prayers and bring us comfort through difficult times. Continue to bless us and wrap Your loving arms around us when we need you most. In Your name we pray, Amen.