LENTEN DEVOTIONAL, DAY 2, THURSDAY, FEBRUARY 18. 2021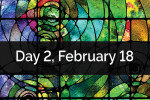 "This is the day that the Lord has made; let us rejoice and be glad in it." Psalm 118:24
As you know, Lent is a time for reflection but in my opinion this entire past year has been a time for reflection. With our normal lives being disrupted, it gave us time to reflect even more on what is important in our lives. It is incredible how fragile life is and that we take it for granted. Much of what we experience we can't control. Knowing that I attempt to see every day as an experience, deliberately arranged out by God. Rather than looking into the day that is in front of you, trying to program it as indicated by your will, be mindful to God and to all God has arranged for you. Thank God for this day, recognizing that it is a special moment, whether you sense God's presence or not. An appreciative, believing attitude encourages you to see occasions in your day to day existence from God's viewpoint.
An everyday routine experienced near God won't ever be dull or unsurprising. Anticipate that every day should contain surprises and challenges. Resist looking for the most straightforward course as the day progresses. Be open to follow any place God leads. Regardless of how steep or slippery the way before you, the most secure spot to be is by God's side.
Prayer: Dear Lord, let us use You as a Guide while we let go of what we cannot control. Help us sense Your presence and trust what You have planned for us throughout the day. Amen.