LENTEN DEVOTIONAL, DAY 31, FRIDAY, MARCH 19, 2021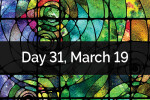 " Wait for the Lord; be strong, and let your heart take courage; yea, wait for the Lord!"
Psalm 27:14

I chose this verse because it seems so appropriate for this pandemic season. This last year has been a year of waiting. Waiting to go outside into the community, waiting to hear what the latest advice is for dealing with COVID, waiting to see if it is safe to travel, waiting for this virus to go away, waiting for the vaccine in my arm! It has been a long wait, and it's not over yet. And I don't know about you, but waiting is not easy for me!

Yet, amidst all the angst of waiting I have seen evidence of people doing so with strength and courage and it is beautiful to witness: doctors and nurses showing up for work, oldsters staying home, volunteers handing out food boxes, young adults giving blood, quilters sewing masks, masks and more masks, grandparents reading to their grandchildren and playing games over FaceTime, adult children getting groceries for their senior parents, people masking up for the sake of others safety as well as their own, pastors and their staff being creative in weekly bringing the gospel message to us via live streaming.
Examples like those above show how waiting can be done with love, caring, courage and strength. For that I am so thankful.
Prayer: Lord, I am filled with gratitude as I recollect what has happened in these past twelve months. It is obvious that You have guided our hearts, minds and hands during these difficult times. It gladdens my heart to have experienced the goodness that abounds in our world. Amen.