LENTEN DEVOTIONAL, DAY 36, WEDNESDAY, MARCH 24, 2021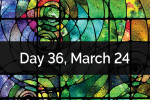 "As soon as Jesus was baptized, he went up out of the water. At that moment heaven was opened, and he saw the Spirit of God descending like a dove and lighting on him."
Matthew 3:16
Sometimes when we face unfortunate events we may think that God has forsaken us and no longer protects us. We fall into uncertainty and lose our faith. Sometimes we are fortunate to be sent a message from heaven that pulls us up out of that despair and restores our faith in God. My sister Carol was my best friend. We were born 18 months apart. She was older. (I have to say that, she'd expect me to.)
Shortly after high school she eloped with her boyfriend Jeff. They raised two children, but the marriage ended 19 years later.
In the year 2000, Carol and I began bicycling. We started big. We registered for the Ride Across Minnesota, a five-day, 300-mile fundraising event for the MS Society. It was challenging and Carol seemed to pretty much hate it, until she met another cyclist named Randy. When we finished the event our mom asked "How was it?". Carol said "It was awful, but I'm going back next year." She ended up loving biking, and Randy.
In 2004 they were married, and since she eloped the first time I made sure I was not going to miss her second wedding and was lucky to be the matron of honor. Ten months later Carol was gone. We were participating in the MS 150 on the Munger Trail and while crossing a road Carol was hit by a truck.
That same day, her former husband Jeff was at his home. He noticed a white dove sitting on his deck post. A minute later he got the call about Carol's death. The dove stayed on his deck all afternoon.
Three weeks later, Randy came to visit my husband Tim and me at our house in Hudson. We were on our deck when a white dove came flying across the backyard, then landed on our roof. It sat and looked at us for a few minutes.
I truly believe those were messages from the Holy Spirit announcing that Carol arrived. She's safe and we should be at peace. When a loved one dies there can be uncertainties. The dove is a perfect sign for me that God is here.
Prayer: Holy Spirit, descend as a dove on us today. May Your presence bring peace in our lives so that we can share the peace of Jesus with the world. Amen.