LENTEN DEVOTIONAL, DAY 38, FRIDAY, MARCH 26, 2021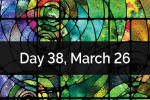 "The Lord your God will change your heart and the hearts of all your descendants, so that you will love him with all your heart and soul and so you may live!"
Deuteronomy 30:6
Modern medicine is really amazing at times. We can get new knees and hips, replace heart valves, transplant organs, transfuse blood, and immunize against deadly diseases. Yes, there are things medicine has not conquered yet, but the ingenuity of our researchers and physicians is nothing short of miraculous. I have replacement parts in my wrist and my elbow and those parts allow me to live a normal life. Some of you have replacement parts, too. We are well on our way to becoming that imagined "bionic" person.
Yet, despite all the issues that medicine has addressed, there is still one thing that is beyond its capabilities. Changing our hearts to be more like God is something that only the Creator can do. However, we have to be open to that change happening. We have to desire it and seek it.
My mom had a knee replacement a few weeks ago. She has a strong work ethic and doesn't like to be idle, so she put off the surgery longer than was recommended. The doctor finally asked her, "What are you waiting for?" That was a pivotal question. Her life could have been better. Why was she waiting?
I think we can ask ourselves that same question. When we get off-track, when we find ourselves feeling lost or straying away, or we know that something needs spiritual attention in our lives, why does it take us so long to seek out God? God should be our touch-stone, our foundation, and our salvation. We shouldn't have to wait for things to get really bad before we try to correct our course. Regular worship, reading scripture and prayer are part of that equation which will help us find our way back into a healthy spiritual place.
No matter what it is that we might find weighing down our spirits, remember we have access to the Great Healer, the One who longs to make us whole.
"For I am the Lord who heals you." Exodus 15:26
"He heals the broken-hearted and bandages their wounds." Psalm 147:2
"My wayward children," says the Lord, "come back to me, and I will heal your wayward hearts." Jeremiah 3:22
What are you waiting for?
Prayer: Healing Lord, give us the discernment, strength, and will to come to You when we are in need of healing and hope. Help us to confess our weakness, so that You might in turn, give us Your strength. Amen.