LENTEN DEVOTIONAL, DAY 40, SUNDAY, MARCH 28, 2021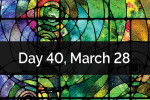 "Worry Ends When Faith Begins"
2 Corinthians 5:7
Have faith are the words I repeated to myself over and over again as I faced the biggest challenge of my life. On October 24th, 2018 I was diagnosed with an aggressive type of breast cancer. I was shocked beyond belief. I had just gotten my annual mammogram like I did every year. How could this happen to me? There was no history of breast cancer in my family. I had ten doctor appointments in two weeks, and on November 14th, 2018 I started chemotherapy.
The next five months were the hardest of my life. How did I get through them?
With faith . . .
My family gave me faith.
I have a family that loves so much, and they were my rock. They kept my spirits up and always told me everything was going to be ok. They gave me the love and support I needed.
My community gave me faith.
My husband was a principal at North Hudson Elementary at the time. The staff and families of North Hudson went above and beyond. They brought us food, gave me care packages and even babysat my kids on a night I just needed help. It came in the form of neighbors taking me to chemotherapy on the coldest day of the year, and watching my kids when I had appointments.
My friends gave me faith.
I have friends that are more like family, and I consider myself so lucky to have them. They arranged a food train and a GoFundMe to support us while I couldn't work. They also signed up to bring me to every chemotherapy appointment. My friends drove from the cities to bring us food, took me to dinner and always knew just what I needed. They sat with me, made me laugh and were always there when I needed them.
My church gave me faith
We attended church every week as a family. I needed to be there and hear the sermons. It always made me feel better to be part of something bigger than what I was going though and to know my church community was praying for me.
God gave me faith
His love and plan for me helped me know I could do this . . . I could beat cancer.
A sermon I heard here stayed with me. I don't remember the exact words but the gist of it was you might wonder how God is answering your prayers. You think he is not answering you because you can't see it. I did not want to have cancer. However this was not something God could give me, but what he could do is surround me with the love and support of family, friends, community and church. They were all there to give me faith.
Prayer: Dear God during this hard and troubling time, give us the faith we need to see the beautiful things that this life has given us. Let us open our eyes to Your gifts that are all around, so we will not lose sight of what is truly important in our lives.