LENTEN DEVOTIONAL, DAY 5, SUNDAY, FEBRUARY 21. 2021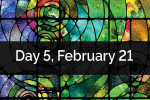 "Let the word of Christ dwell in you richly in all wisdom, teaching and admonishing one another in psalms and hymns and spiritual songs, singing with grace in your hearts to the Lord." - Colossians 3:16
Is there a certain song that, when you hear it, transports you to another place and time in your mind? One song that does that for me is the Nunc Dimittis, "Lord, Now Lettest Thou Thy Servant Depart in Peace."
In January of 1982, I was fortunate to be part of the Gustavus Adolphus College Choir on tour in Scandinavia and Germany, including what was then East Germany. Our itinerary in East Germany, which was remarkably structured and closely supervised, included a stop at the site of the Battle of Lützen, near Leipzig, where King Gustavus Adolphus II of Sweden, namesake of our college, lost his life in 1632.
We visited the memorial to Gustavus Adolphus which includes a small stone chapel. It was locked, and we waited while an older gentleman, presumably the caretaker, came and opened it for us. The chapel appeared unused and was unheated, so we all kept our coats on. Our director, Dr. Karle Erickson, suggested that we sing the Nunc Dimittis, "Lord, Now Lettest Thou Thy Servant Depart in Peace."
We sang, our harmonies mixing and reverberating off of the stone walls of this sacred place, in loving memory of a long-dead King.
The experience of singing such rich music in such an intimate setting was transcendent. The old caretaker, surrounded by the choir in the small space, had tears streaming down his face as he listened and wept, hat in hands. This performance for an audience of one was one of the most memorable and meaningful concerts of the entire tour.
Sometimes music, such as a familiar hymn, is like comfort food for the soul. Music has power to calm and comfort, lift and inspire, to bring us joy. Tunes and texts allow for reflection and contemplation. Whether it's singing "Jesus Loves Me" as a child or a song from a church service in recent weeks, I hope musical memories and experiences enhance your spiritual journey.
Prayer: Dear Lord, thank You for the gift of music. Help us to cherish our musical memories and to be people who sing with grace in our hearts to the Lord. In Peace, Amen.