LENTEN DEVOTIONAL, DAY 6, MONDAY, FEBRUARY 22. 2021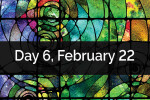 "Do to others as you would have them do to you." - Luke 6:31
When I moved out to Washington, everything was completely foreign to me, and I knew no one. While this was certainly hard, I instantly dove into sports and eventually school. Soccer was definitely a great icebreaker for me but what was even greater was the actions of one man. Just a few weeks after moving I was invited to a late soccer tryout with a team, and upon arrival I was greeted with compassion and kindness. After the tryout the coach came over to me and my parents and said, "You'd be a great fit on this team if you're interested." And of course I gladly took his offer. Little did he know, his simple act of kindness and compassion paved the very road of my new journey. Over the years we have become great friends with Coach and his family, spending many holidays and camping trips together. His actions not only inspired me to treat others with kindness and compassion but in the end it led to many great friendships, essential life lessons, and overall set the tone for 3 amazing years on the West Coast.
Oftentimes, I found it hard to reciprocate these actions, when I knew no one, but when I gave it a shot it led to so many great things. Every day I challenged myself, and continue to challenge myself to be the light, to be the hand that reaches out, and to be the stranger whose actions pave the road for someone else's journey.
Prayer: Dear Lord, thank you for sending amazing people into our lives who help guide our journey. Help us to be that guide in someone else's life, and help us live by the powerful words of 1 Peter 4: 8-10 "Above all, love each other deeply, because love covers over a multitude of sin. Offer hospitality to one another without grumbling. Each of you should use whatever gift you have received to serve others, as faithful stewards of God's grace in its various forms." Amen.