LENTEN DEVOTIONAL, DAY 7, TUESDAY, FEBRUARY 23. 2021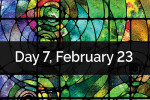 "Be joyful always; pray continually; give thanks in all circumstances, for this is God's will for you in Christ Jesus." - 1 Thessalonians 5:16-18
To me, these are words to live by. Words and a way of life that I learned from my parents and grandparents. I recently visited my grandmother in a nursing home before she passed away. As I looked at her for the last time, memories flooded my mind. A lot of them relating to her compassion and way of life. When I was young, I was fortunate to spend lots of time with my grandparents on their farm in North Dakota where I learned about hard work, family traditions and the importance of attending and being involved in the church. As a young adult I would always make it back each year to make lefse and other Norwegian foods with my grandmother. Every week they attended the small rural church where they were very active members. My grandma was definitely one of the church basement ladies! When I was young, I remember my grandfather looking at me down the pew with a grin on his face and a piece of candy in his hand waiting for me. A treat I only got from him when I attended that small country church. I always tried hard to sit next to grandpa!
My grandparents started their life together raising a family without indoor plumbing and electricity on the North Dakota prairie. Something I can't even imagine! But even though there were tough times, my grandparents always tried to be optimistic and joyful. They instilled in me the importance of thankfulness and especially prayer.
Even in her last days, when my grandma realized it was a Sunday, she was insistent on attending church. Knowing that grandma was bed-ridden and could not leave her room, my mom was able to use her iPad to livestream her local church service. One great benefit of technology during the pandemic! Watching and listening gave my grandma great peace.
Both my grandparents and my mom have showed me the importance of being involved in the church and community and helping those in need and taking care of each other. I am thankful for the opportunities and the community that we have here at Bethel.
Prayer: Thank You Lord for the opportunities You have given us, the joy we find in others and the abilities to do Your will and help those in need. Amen.