LENTEN DEVOTIONAL, DAY 8, WEDNESDAY, FEBRUARY 24. 2021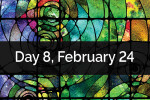 "Bless the Lord, O my soul; and all that is within me, bless his holy name! Bless the Lord, O my soul and forget not all His benefits, who forgives all your iniquity, who heals all your diseases." Psalm 103:1-3
Shortly after my 80th birthday I started seeing a cardiologist because of atrial fibrillation and a heart murmur and some enlargement of the right ventricle. After about a year of tests and hemming and hawing, we decided to do open heart surgery to replace the tricuspid valve which is in the right chamber of the heart. I got to thinking of it as my 80 year tune up.
It seemed kind of like overhauling an engine. They said that since while they were at it, let's do the ablation to try to reduce the atrial fib, and we will put in the wiring for a pace maker, and there is this appendix-like pocket on the left atrium that can collect blood and form clots with irregular heart beats, and cause strokes or heart attacks. It will just take a half hour to close that off and you may no longer need blood thinners.
See what I mean?
I would be on a heart-lung machine about an hour and a half, and they would open the chest down the breast bone.
They commented that the older people who had open heart surgery generally had less pain than younger people.
I guess I am old enough because I had no pain in that incision at all. After 3 days I quit taking Tylenol 4 times a day and the 5 milligrams of OxyContin they gave at bed time.
So here I am, about to go into surgery, and I had not really thought too much about what it would be like to go through recovery. But now I am outside of surgery waiting to go in, and thinking: what will the anesthetic do to my brain? How much pain will there be? How long will it take to feel good again? And then I thought "whether I live or whether I die, I am the Lord's". So I am in His hands. I have nothing to fear! That cleared my head, and calmed my thoughts and I prayed simply "Lord, I am in Your hands, I trust You to take care of me." And into surgery I went!
Prayer: Dear Lord, I thank You that we can always have confidence in Your presence with us, in every circumstance. Help me to trust You in every circumstance in our lives and to remember You are with us and have a hand in the outcomes that matter what seems good or bad as we look ahead. Help us also to be as good at remembering Your presence in the good times as well as the bad. In Jesus' name I pray. Amen.