LENTEN DEVOTIONAL, DAY 9, THURSDAY, FEBRUARY 25. 2021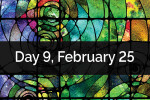 "I hereby command you: Be strong and courageous; do not be frightened or dismayed, for the LORD your God is with you wherever you go." Joshua 1:9
The start of my junior year was nothing like I would have hoped. I was looking forward to being able to drive to school on my own, starting new classes, and seeing all my friends again. Though that soon changed for me, as my parents had decided they wanted me to start the school year off doing full virtual. I was not very pleased as everything I had been looking forward to was taken away just like that. I soon began to feel as though I was alone, because none of my other friends were doing virtual, and a majority of the students were all in school. I was now not looking forward to going back to school, because I thought that I would be the only one doing virtual in my classes, that I would be left out, and that I wouldn't learn anything because I wasn't in the classroom.
The first day of school came pretty fast after that, and it was time for me to sit in my house, and stare at a computer screen for eight hours. I really don't think I made the experience any better because I had convinced myself that online classes would be terrible, and was not in a very optimistic or courageous mood. Instead, rather I was grumpy and to be frank scared because this was a totally new experience for me. As the school day went on, in most classes there were only about two to three other students on the Google meet. This did not help change my mood or make the day any better, because none of these people were my close friends or even people I felt really comfortable with. I was so excited for lunch and study hall because I got a break from it all! The day was coming to an end, and I was getting ready for my last class of the day, math. I joined the Google meet, and just like that one after one, so many other people joined as well. I began to realize that there were more people doing online than just me. In a way each and every one of these individuals was the Lord for me, they were with me on this crazy journey. I realized that I was not alone.
Though it took me almost the entire day to understand that I was not alone in this situation and that I never will be, I was now strong, in my eyes, for making it through the first day, and was no longer frightened by the idea of online school. But just to be clear, it still wasn't my favorite thing in the world, and I couldn't wait to go back to school in person after two weeks!
Prayer: Dear Lord, thank You for never leaving anyone's side during any situation. I pray no matter where someone is in their life right now, that You show them your wonderful command. Amen.