Bonus Lenten Devotion - Tuesday, April 16, 2019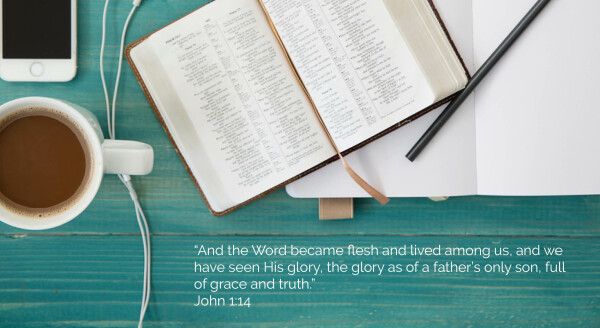 "And the Word became flesh and lived among us, and we have seen His glory, the glory as of a father's only son, full of grace and truth." John 1:14
Both Genesis and the Gospel of John begin with the same words, "In the beginning." Genesis focuses on God creating the heavens and the earth and all that is part of the earth. John focuses on how the Word was with God, and therefore with us, from the very beginning. In both pieces of scripture, there is an emphasis on God's investment in the world and its people. They tell us how God comes to us.
I'm at the stage of life where my children are leaving home and beginning to venture out on their own. My sons traveled back home over their college breaks to spend several weeks with us. It made me so happy to have our family together, to have them back in our home, to be sharing meals together, having conversations, and just having time to be with one another. What a joy it is to be with those we love! We didn't have to have an agenda. We didn't have to do anything special. When you love someone, you just want to be around them.
That is why God has spent so much time finding ways to be with us, connect with us, and guide us. That's why Jesus, that Word made flesh, came to dwell with us – personally, physically – because God loves us and wants to just be with us, too. We don't have to do anything special, or be anyone other than who we are, in order for our God to love us, claim us, and call us His children. The God of the universe became human so that He could connect with us on a deeper, more personal level. What an amazing demonstration of love!
Prayer: Dear Lord, Thank you for loving us so much that there is absolutely nothing You would not do to connect with us and have a relationship with us. May we continue to seek You out as we grow in our faith and our understanding. Amen.
Pastor Kris Kurzejeski