Lenten Devotion day 28 - Sunday, March 31, 2019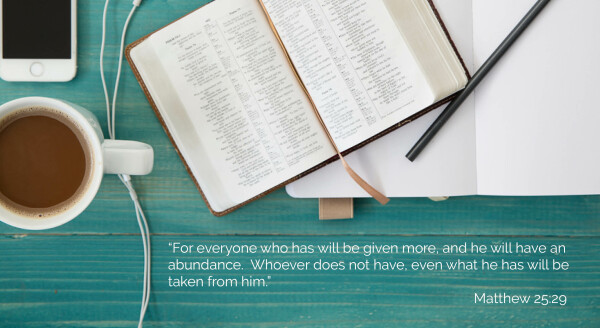 "For everyone who has will be given more, and he will have an abundance. Whoever does not have, even what he has will be taken from him."
Matthew 25:29
The passage above comes from one of my favorite stories of the Bible – the Parable of Talents. In the parable a master leaves his three servants with varying amounts of money, or talents. The first servant received five talents, the second two talents, and the last one talent. The first two servants invested and doubled their talents. The third servant was afraid of losing his talent, so he dug a hole and buried it. When the master returned the first servant presented him with ten talents, the second servant gave the master four talents, and the last servant returned the talent he was given. The master was pleased with the first two servants, but responds harshly to the third by throwing him outside into the darkness.
Something I struggle with is balancing my desire to have more in life with being grateful for what I already have. There are times I wish that I made more money, had a bigger house, had more free time, had a nicer car, or didn't have all those bills to pay. I don't view these wishes as a bad thing, but I realized after reading this parable that I was focusing on the wrong area of my life. I needed to look inward and be thankful for everything that I already possess instead of focusing on what I don't have.
It was an interesting exercise for me and I suddenly became aware of everything I had in my life that I simply took for granted. Here are a few examples: I've always had a roof over my head (with running water!), was raised in a wonderful family, grew up in a great city, graduated from college with a job already lined up, married my high school sweetheart, purchased a lovely home, and now I'm a new father to a perfect 4-month-old son.
If we can just pump the breaks in this fast-paced world and take a moment to appreciate everything we have, we realize we already have the abundance we desperately seek. God has given it to us and all we need to do is realize it. If we can shift our focus from scarcity to abundance, God will always continue to provide us with everything we need.
Prayer: God, thank you for being the ultimate provider and giving us everything we need. We ask you to remind us of this fact and help us to shift our focus from thoughts of fear and scarcity to thoughts of opportunity and abundance. In your name we pray, Amen.
Steve Burke