Lenten Devotion day 35 - Tuesday, April 9, 2019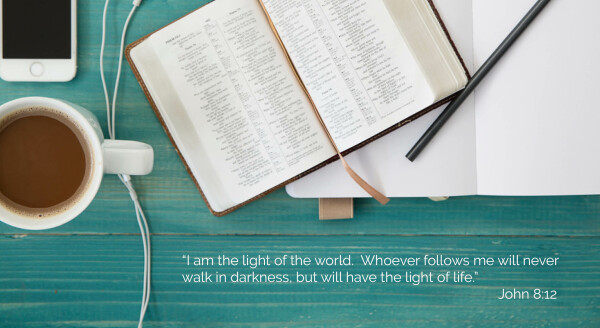 "I am the light of the world. Whoever follows me will never walk in darkness, but will have the light of life." John 8:12
l feel so very blessed that God's light has shone upon me throughout my life.
However, I did not always follow His light as I should have. As a child, thanks to my Mom and Dad, I was baptized and confirmed in the Lutheran faith. I loved attending Sunday school and worship each week. Being a part of the Christmas and Easter programs brought me so much joy, I could not wait to get all dressed up and feel so proud and grateful to be a part of God's faith. I felt God's light shining upon me. It was truly the joy of my life!
As I became an adult and out on my own, His light may not have shone so bright upon me or so I thought. Life gave me some challenges. I got so busy with my life's journey and things became blurry in my heart. I did not seek the light of God as I should have. The years went by, there were times I sought God's blessings and forgiveness through prayer, but not daily, weekly or monthly. I felt empty in my heart.
Life's journey brought me to realize how blessed I really was. Even though I still experienced hardships, it was through daily prayer that brought me closer to God. I felt His strength and support like never before. I needed to be much more thankful and grateful to God. I needed to feel His light shine upon me once again. Now I can say that with each new day I am closer to God. What a gift God has granted me. No more feeling empty, I feel His light shining upon me and through me. Even though life's journey is not perfect, I know God's love and presence is always with me. I am so blessed, no matter what life throws my way, through His shining light!
Prayer: God, thank you for always being there for me during my life's journey. You have blessed me in so many ways through Your never ending strength and love.
May I feel Your shining light upon me and within me now and forever. Amen.
Sherry Lamb