Lenten Devotion day 36 - Wednesday, April 10, 2019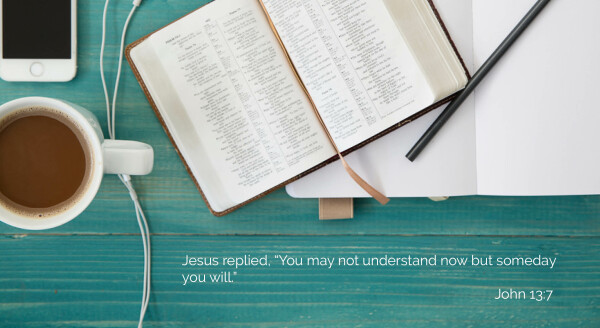 "Jesus replied, "You may not understand now but someday you will."
John 13:7
This verse comes from the story of Jesus washing his disciple's feet. Back in this time of history when a person washed another person's feet, it was typically a slave. Washing feet was the dirty job and nobody wanted to do it. In this story, Jesus got down on his hands and knees and began to do the "dirty job" for his disciples. This took them by surprise and some even insisted that He not wash their feet. But Jesus being the awesome guy that He was insisted that He wash their feet. He knew they would not understand the purpose of what He was doing at that moment, He knew that they would think that what He was doing was weird and wrong but He proceeded to do it and inform them that one day they would understand why He was doing this job.
There are a few meanings that I draw from this verse. The first of which is the importance of humbling yourself. Jesus gets down on His hands and knees and does the dirty job for His disciples. He did not care what context the job held or what it meant He did it because He recognized the importance of humbling one's self to serve others even if it means doing the dirtiest of jobs. Jesus wants us to recognize that in this verse, recognize now that we too should humble ourselves and serve others.
The second meaning I draw and call upon very often is that in hardships and in the hardest times we just need to trust in Jesus. He wants us to understand that right now it isn't going to make sense. You failed that test? You lost your job? Your loved one died? Yeah, that sucks. It is these situations that cause many to question Jesus and really get down on themselves and their faith in God. It is in these situations however that we need to allow ourselves to take a step back and realize what this verse is saying to us. It is saying that right now it is not fun. Right now it really sucks. But there is a reason that this happened. Life is going to get better, and it's going to make sense why this hardship happened. It just requires faith in him.
Prayer: God, we thank You for humbling Yourself and serving us. It is through that wonderful act that we are able to do the same and serve others. God, not only do we ask that You allow us to keep humbling ourselves and serve others, we ask that You also watch over us. You continue to allow us to see that our hardships will get better and that our hardships will make sense eventually. God, we thank You for that gift and that truth that we are able to hold on to every day. It is in Your name we pray, Amen.
Drew Bjork