Lenten Devotion day 38 - Friday, April 12, 2019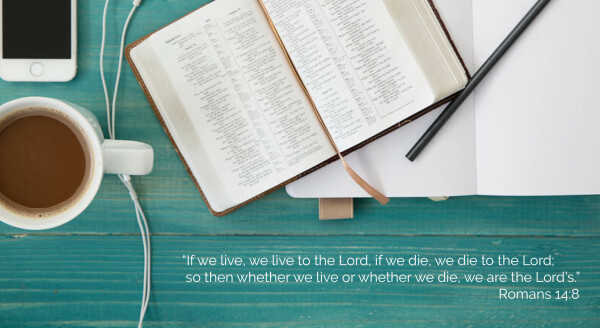 "If we live, we live to the Lord, if we die, we die to the Lord; so then whether we live or whether we die, we are the Lord's." Romans 14:8
Until age 76, I was blessed with good health. Then the cancer showed up, and the battle was on. Through it all, I generally felt good. No nausea, no pain to speak of. I was able to keep working and all that. Now they tell me I have no more cancer, but we will do a CT Scan every 4 months to be sure.

What still sticks in my mind is when my first oncologist walked into the room after a CT scan and said, "Well, the cancer is back, you have 36 months, if I come up with anything, I will call you."

I know now that pronouncement is irrelevant. But I am still mindful that the 36 months will be up in October. I feel that will be a time to celebrate, even though when he said that, I thought to myself, "I will be past 80, that seems to be average for men, I guess I can't complain."

We did switch over to Mayo and took a chance on an immune therapy that helps 1 out of 4, and 1 out of 10 gets cured. They do not know why it works so differently in different people. I give great credit to the power of prayer, and I live in thanks for all who have prayed for me and all God has done.

Someday a new crisis will come, and I pray I will be as calm about it as I was nearly 3 years ago, and like then will seek the best way to deal with it, and trust God to take care of me, whether I continue to live on earth, or go on to be with Him in heaven.

Prayer: Dear Lord, I thank you that I can trust you to be with me, whether in good health or bad, and whether I live or die, for I am yours and am in your loving, protecting hands. Amen.
Pastor Bob Bipes