Summer 2024 @ Bethel
Bethel's Youth Ministry is vibrant and active in the summer with events and activities for kids of all ages! Check this page frequently because new events will continue to be added.
Scroll through this page for details on the following:
Middle School Mission Trip
High School Mission Trip
ELCA Youth Gathering
Vacation Bible School
Splat Tag
Camp Wapo
Kids Impact Day
---
Middle School Mission Trip - Milwaukee, WI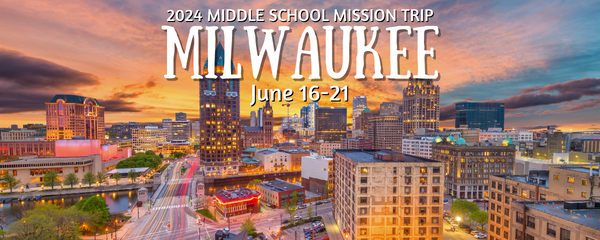 This summer, Bethel's Middle School Mission Trip will travel to the Milwaukee to partner with local organizations to provide service to others. The youth might work with food pantries, soup kitchens, local gardens or intergenerational care centers. There will also be an opportunity to visit a water park for some well-earned fun!
This mission trip is in partnership with an organization called YouthWorks which has years of experience organizing mission trips for youth in Milwaukee.
Fundraising opportunities will be arranged in the coming months.
Dates: June 16-21
Deposit: $100
Cost: $500, minus the $100 deposit (includes housing, food, waterpark adventure & transportation)
Who: students currently in grades 6-8
Register HERE


Registration Limits: The trip is limited to 12 students so coordinate with friends and register soon to reserve your spot!
Scholarships are available - click HERE to complete the application form.
---
High School Mission Trip - Memphis, TN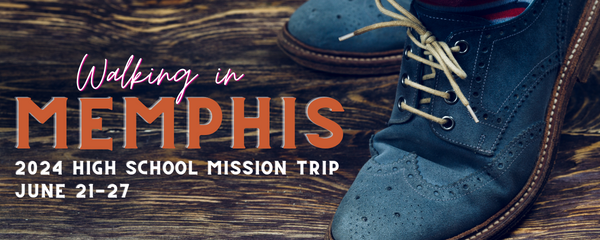 In the summer of 2024, Bethel's high school youth will travel to Memphis, Tennessee for a week of mission and learning! Memphis is one of the most religiously diverse cities in the country offering numerous opportunities to share God's love. Students will partner with local pastors in the Memphis community serving those in need.
Our mission trip partner, Praying Pelican Missions, has a long history of mission and service in this area.
In addition to the mission work, there will be an opportunity to enjoy the local culture and rich history of the area. On the drive to Memphis, the group will stop in St. Louis to tour the Arch.
Dates: June 21-27
Cost: $650 (includes housing, food, activities & transportation)
Who: students in grades 9-12 for 2023-24
Deposit: $100 non-refundable to reserve your spot
Register HERE
Registration Deadline: May 1
Fundraising: Fundraising will be available to help offset the cost.
NOTE: Thos attending both the High School Mission Trip and the ELCA Youth Gathering will have the cost reduced by $100.
Praying Pelican Paperwork - Additional paperwork is required by Praying Pelican so be watching for an email from them soon.
Scholarships are available - click HERE to complete the application form.
---
ELCA Youth Gathering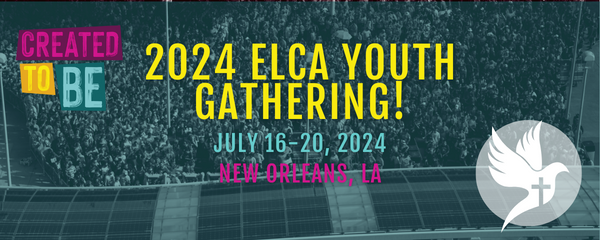 Every three years, 30,000 high school youth and their adult leaders from across the Evangelical Lutheran Church in America gather for a week of faith formation known as the ELCA Youth Gathering. Through days spent in interactive learning, worship, Bible study, service and fellowship, young people grow in faith and are challenged and inspired to live their faith in their daily lives.
This is your chance to experience Created to Be!
This year the Gathering is in New Orleans, so to reduce travel time, we will be flying to the Gathering.
Click HERE to learn more about the Gathering.
Register HERE
COST DETAILS & PAYMENT SCHEDULE
Early bird registration is now through November 1 when the price increases by $50. This price includes the participation fee, transportation, housing, meals, t-shirt. Students should plan to bring spending money for snacks, swag and worship offering.
$150 non-refundable deposit due at registration
$850 balance due by May 24
SCHOLARSHIPS
There are funds available for scholarships for this event. CLICK HERE TO APPLY FOR SCHOLARSHIP
---
Vacation Bible School
Scuba: Diving into friendship with God!
K5 VBS: July 22-26, 9am-noon
Preschool VBS: July 15-18, 9am - 11am
Details & Registration coming January 2024
---
Make Bethel Week at Camp Wapo part of your summer plans!
Camp Wapo is a great place for kids to have fun, build friendships and grow closer to God! There are programs for all ages. Students can register for any week, but during Bethel Week transportation is provided to and from camp.
Details & Registration coming January 2024
---
Splat Tag (students entering 6th-9th grades)
Details & Registration coming spring 2024
---
KIDS IMPACT DAY (STUDENTS ENTERING 4TH & 5TH GRADES)
Details & Registration coming January 2024
---
Hudson Backpack Program
Bethel supports the Hudson Backpack Program and encourages everyone to be involved whether you are receiving support to reduce food insecurity or you are a volunteer to support this valuable program. Click HERE to receive support or to volunteer.